Alsatian Onion Tart with Lardons and Beaufort Cheese
Hiver 2008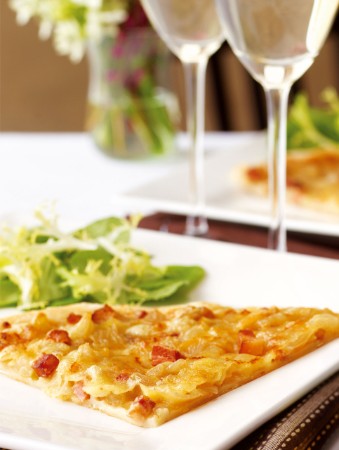 Alsatian Onion Tart with Lardons and Beaufort Cheese
Hiver 2008
BY: Tonia Wilson-Vuksanovic
This tart traditionally does not call for the Beaufort, a nutty Alpine cheese made from cow's milk. However, adding it helps to make for an even more precise accompaniment to the wine. Serve the tart warm as an appetizer or as a light lunch with mixed greens.
12-inch (30-cm) circle cut from 1 sheet puff pastry, follow package directions for rolling
1 tbsp (15 mL) butter
⅓ cup (75 mL) smoked lardons or pancetta, cut into a ¼-inch (5-mm) dice
4 cups (1 L) white onions, cut into ½-inch (1-cm) dice
½ cup (125 mL) water
Pinch of nutmeg
White pepper to taste
½ cup (125 mL) Beaufort cheese, grated (can be substituted with top quality Emmenthal or Gruyère)
1. Preheat oven to 375°F (190°C).

2. Place puff pastry circle in refrigerator until ready to use.

3. Heat butter in a large sauté pan over medium-low heat, add lardons and slowly cook until lightly brown, about 10 minutes. Remove from pan, leaving the fat in the pan.

4. Add onions and water and cook over low heat for 35 minutes or until onions are translucent and soft. Add nutmeg and white pepper. Let cool.

5. Place puff pastry on an ungreased baking sheet. Prick all over with a fork to prevent it from rising.

6. Cover pastry with onions, lardons and Beaufort cheese.

7. Bake on lower rack in oven for 20 minutes, until lightly golden. Cool slightly, slice and serve.
Serves 4 as a main course, 8 as an appetizer
SHARE