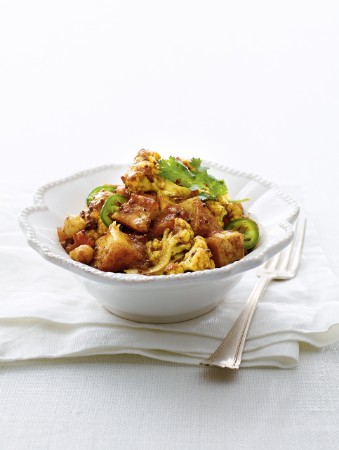 BY: Lucy Waverman
Aloo Gobi is an Indian potato dish that usually includes cauliflower. I have added cooked chickpeas into this mix but traditionally they would not be part of the recipe. This is a dry curry.
1 small head cauliflower, about 2 cups (500 mL)
2 cups (500 mL) leftover roast potatoes cubed
2 tbsp (30 mL) butter
1 tbsp (15 mL) vegetable oil
1 tbsp (15 mL) black mustard seeds
2 tsp (10 mL) ground coriander
2 tsp (10 mL) ground cumin
1 tsp (5 mL) garam masala
1 tsp (5 mL) ground turmeric
1½ cups (375 mL) chopped canned tomatoes discarding juice
1 cup (250 mL) cooked or canned chickpeas
½ cup (125 mL) water
Salt

GARNISH
1 small jalapeño pepper, cut in rounds, seeds removed
2 tbsp (30 mL) chopped cilantro
1 Cut cauliflower into small pieces. Bring a pot of water to boil and add florets. Boil 2 minutes and remove from heat. Drain and splash with cold water to stop cooking. Combine with potatoes.

2 Heat butter and oil in skillet over medium heat. Add mustard seeds, coriander, cumin, garam masala and turmeric and sauté together for 1 minute. Add potatoes and cauliflower and toss with spices.

3 Add tomatoes and chickpeas along with water. Bring to boil, then simmer together for 5 minutes or until the flavours are combined and water has evaporated. Season with salt.

4 Garnish with jalapeño rings and cilantro.
SHARE