Almond and Herb Mushroom Caps
Early Summer 2009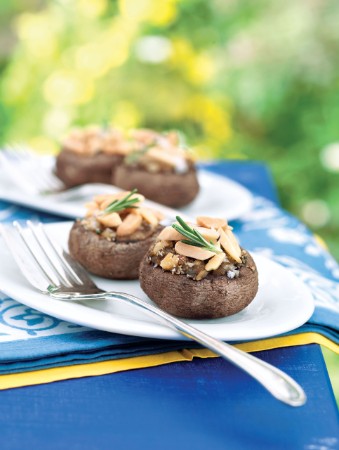 Almond and Herb Mushroom Caps
Early Summer 2009
BY: Marilyn Bentz-Crowley
Many herbs are perennial and all need little tending in a sunny garden or in balcony pots. Snip and chop whatever is most abundant for these delicious hot mushrooms.
24 cremini or button mushrooms, each about 1 1⁄2 inches (4 cm) across
3⁄4 cup (175 mL) toasted slivered almonds, divided
1 tbsp (15 mL) olive oil
1 tbsp (15 mL) butter
1⁄4 cup (50 mL) minced red onion
1 garlic clove, minced
1⁄4 tsp (1 mL) freshly ground black pepper
1 tsp (5 mL) tamari or soy sauce
1 tsp (5 mL) balsamic vinegar
1 tsp (5 mL) each of chopped fresh rosemary and oregano or 2 tsp (10 mL) chopped fresh mixed herbs
1⁄2 cup (125 mL) fresh white-breadcrumbs
Maldon or other coarse salt
Several sprigs fresh rosemary or other herb
1. Remove stems from mushrooms; finely chop. Finely chop 1⁄4 cup (50 mL) almonds. Set caps and remaining almonds aside.

2. Heat oil and butter in a small frying pan over medium heat until hot. Add onion and garlic; sauté 2 to 3 minutes.Add chopped stems; sauté 4 to 5 minutes or until much reduced in volume. Remove from heat, stir in pepper, tamari, vinegar, herbs and chopped almonds. Then stir in bread crumbs.

3. Dividing among caps, firmly fill each one. Place 8 to 10 slivered almonds over filling. Mushrooms can be covered and refrigerated for up to half a day.

4. Grill upright on hot barbecue for 3 to 5 minutes or until hot and mushrooms are partially cooked. Garnish each with a few salt flakes and tiny sprig of rosemary or chopped herb. Serve immediately.
SHARE