Almond Oil Cake
Printemps 2011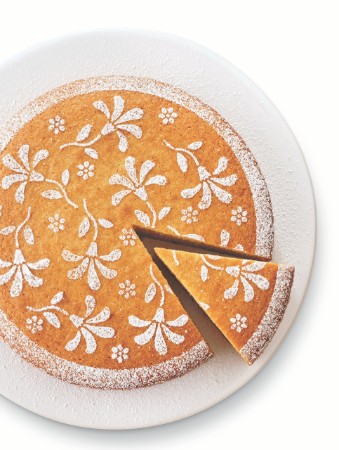 Almond Oil Cake
Printemps 2011
BY: Christopher St. Onge
Roasted almond oil imparts a beautifully nuanced flavour to this very moist and simple cake. Using a paper doily as a stencil for the icing sugar makes for a pretty cake to serve alongside coffee or tea. Simply place over the cake before dusting with the icing sugar and remove.
3 large eggs
1 cup (250 mL) sugar
½ cup (125 mL) buttermilk
½ tsp (2 mL) almond extract
1 cup (250 mL) roasted almond oil
1 cup (250 mL) flour
½ cup (125 mL) finely ground corn meal
½ cup (125 mL) ground almonds
1 tsp (5 mL) lemon zest
¼ tsp (1 mL) salt
1 tsp (5 mL) baking powder
½ tsp (2 mL) baking soda
Icing sugar for dusting
1 Preheat oven to 350°F (180°C).

2 Line bottom of a 9-inch (23-cm) springform pan with parchment. Oil sides.

3 In a large mixing bowl, whisk together eggs, sugar, buttermilk, almond extract and oil until fully combined.

4 In a separate bowl, combine remaining ingredients except icing sugar, ensuring the lemon zest is evenly distributed. Pour egg mixture over the dry ingredients and stir until no lumps remain. Scrape mixture into prepared pan and bake on centre rack for 40 to 45 minutes, or until a toothpick inserted into centre comes out clean.

5 Place pan on a rack and allow to cool. Run a sharp knife around edge and remove cake from pan. Using a fine-meshed sieve, dust with icing sugar.



SHARE