All-Dressed Shoestring Chips
Winter 2012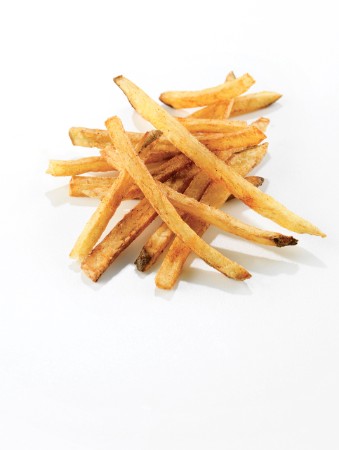 All-Dressed Shoestring Chips
Winter 2012
BY: Heather Trim
Make the chips, then test your willpower! These are delicious on their own and as a garnish for steak.
2 large potatoes, peeled if desired
¼ tsp (1 mL) dried oregano leaves
¼ tsp (1 mL) sweet smoked paprika
¼ tsp (1 mL) fine sea salt
⅛ tsp (0.5 mL) cayenne
⅛ tsp (0.5 mL) garlic powder
⅛ tsp (0.5 mL) onion powder
⅛ tsp (0.5 mL) black pepper
8 cups (2 L) canola oil
1 For best shoestring chips, use a mandoline fitted with the julienne blade. Slice potatoes, then place in a bowl of ice-cold water for about 30 minutes. Line a baking sheet with paper towels. Stir spices together.

2 Place oil in a large deep pan such as a Dutch oven (or follow instructions on deep fryer).It should not come more than a third up sides of pan and needs to be 1½ inches (4 cm) deep. Set over medium. Heat oil to 350° to 360°F (180 to 185°C) using a deep fry thermometer or drop a cube of bread into the oil—it should turn brown in about 1 minute.

3 Drain potatoes very well and pat dry really well. Using large tongs, add about a third of potatoes to oil. Fry, stirring occasionally until golden brown, 4 to 5 minutes.Using a large slotted spoon or tongs, remove potatoes and place on paper-towel-lined baking sheet. Pat any excess oil. Place chips while hot in large bowl. Toss with a third of the spice mixture. Repeat with remaining potatoes. Best eaten right away or within a couple of hours.

Makes 3 to 4 cups (750 mL to 1 L)



DEEP FRYING 101

• Pay attention; don't leave oil unattended.
• Cooking times are a guideline.
• Oil spatters when you put food into it so be ready. Use long handled tongs or spoons.
• Oil does not like water; the combination could result in a fire and/or explosion.Pat the potatoes really dry.
• Don't overcrowd pot. The food cooks better if it has room to move.
• Cool oil completely in pot.
• Oil can be reused, strained through coffee filters to remove any grit. Return to original container and store in a cool dark place. Length of storage time varies depending on what you've fried—for potatoes up to 3 months or5 or 6 uses.
• Disposing of used oil varies by region, so call your local garbage-pickup service for information.
SHARE