Ale-Braised Short Ribs
Early Summer 2011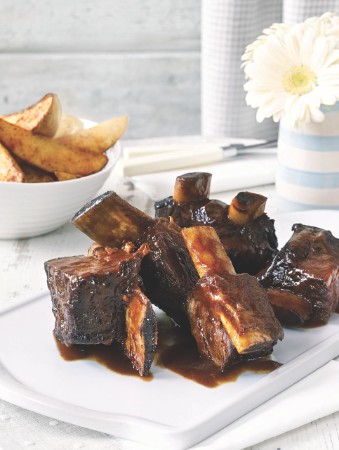 Ale-Braised Short Ribs
Early Summer 2011
BY: Julia Rogers & Tonia Wilson
While picking up beers for the weekend make sure to buy a couple of flavourful, dark ales to use for the ribs. If there are any leftover ribs you can use the meat to make a delicious ragu sauce for pasta. Shred the cooked beef and add to your favourite tomato sauce with a handful of fresh basil.
3½ lbs (1.75 kg) beef short ribs cut 2- to 3-inches thick (5- to 8-cm) and sliced into pieces with 1 to 2 bones in each (for meatier pieces use 1 bone, if smaller use 2 bones)
Salt and pepper to taste
2 tbsp (25 mL) vegetable oil
2 cups (500 mL) onions, coarsely chopped
2 tbsp (25 mL) garlic, coarsely chopped
2 tbsp (25 mL) fresh sage, coarsely chopped
2 tbsp (25 mL) tomato paste
2 cups (500 mL) dark ale
1 cup (250 mL) beef stock


1. Heat oven to 350°F (180°C).

2. Generously season short ribs with salt and freshly ground pepper.

3. In a large ovenproof pot, heat oil over medium heat. Sear the short ribs in oil until well browned on all sides, work in batches to avoid overcrowding the pot. Place browned ribs aside on a plate.

4. Discard excess oil from pot, add onions, garlic and sage and sauté until onions are nearly tender, about 10 minutes. Add tomato paste and cook for 1 minute longer.

5. Place ribs back in pot along with ale and beef stock. Bring to a simmer, cover and then place in preheated oven. Bake for 3 hours or until meat is very tender and falls apart when gently pulled with a fork. Remove from oven.

6. Set ribs aside and pour the pan juices through a strainer to remove the solids; reserve liquid. Place ribs and strained liquid back into the same pot and cook over low heat until the liquid has reduced to a sauce consistency, about 10 minutes.

7. Season to taste and place everything in a transportable and oven-friendly dish. When ready to serve, place in a 350°F (180°C) oven and warm through. Serve ribs covered with sauce.


SHARE