Lamb with Fennel
Holiday 2005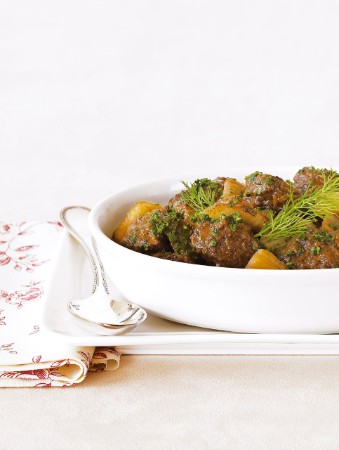 Lamb with Fennel
Holiday 2005
BY: Lucy Waverman
The anise flavour with lamb is a superb combination. If shoulder is unavailable you can use leg but it will be slightly drier.
2½ lbs (1.25 kg) boned lamb shoulder, cut in 2-inch (5-cm) dice
1 tbsp (15 mL) chopped fresh rosemary
1 tsp (5 mL) fennel seeds
4 garlic cloves, sliced
½ tsp (2 mL) chili flakes
3 tbsp (45 mL) olive oil
Salt and freshly ground pepper
1 cup (250 mL) chopped onion
1 cup (250 mL) Châteauneuf du Pape (or other red wine)
1 cup (250 mL) beef or chicken stock
1 tbsp (15 mL) tomato paste
2 fennel bulbs, trimmed, cored and diced into
1-inch (2.5-cm) pieces
2 tbsp (25 mL) chopped parsley
1 tbsp (15 mL) chopped fennel fronds (tops)
1. Place lamb in bowl and toss with rosemary, fennel seeds, garlic, chili flakes and 2 tbsp (25 mL) oil. Refrigerate for 12 hours, turning occasionally.

2. Preheat oven to 300ºF (150ºC).

3. Scrape off garlic slices and reserve. Season lamb with salt and pepper. Heat remaining 1 tbsp (15 mL) oil in ovenproof casserole on medium-high heat. Brown lamb in batches, about 2 minutes per side or until a good rich brown colour Adding more oil if necessary. Remove to plate and reserve.

4. Reduce heat to medium-low. Add onion and reserved garlic slices and sauté for 2 minutes. Pour in wine, scraping up any little pieces from the bottom of the pan. Bring to boil and add stock and tomato paste, stirring well to combine.

5. Place reserved lamb in casserole, cover and bake in the oven for 1½ hours. Remove cover and add fennel. Continue to bake uncovered for another hour or until meat and fennel are tender.

6. Remove lamb and fennel and reserve. Skim any fat from sauce, bring sauce to boil and reduce for 5 minutes, or until it lightly coats the back of a spoon. Taste sauce for seasoning, adding salt and pepper as needed.

7. Return reserved lamb to casserole. When ready to serve, reheat lamb, uncovered in 350ºF (180ºC) oven for 25 minutes. Sprinkle with parsley and fennel fronds just before serving.
SHARE