Lamb with Warm Spices and Dates
Holiday 2017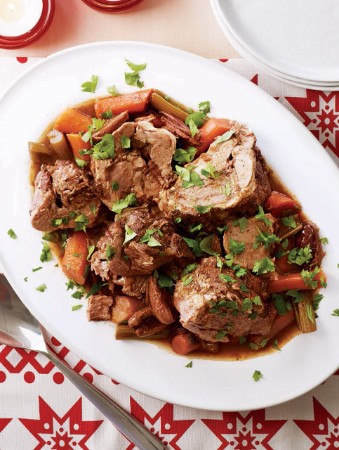 Lamb with Warm Spices and Dates
Holiday 2017
BY: Lucy Waverman
Medjool dates will disintegrate into the sauce while dates bought in packages will stay firmer. It is a matter of personal preference which kind to use. The cooked lamb does not always cut in beautiful slices, as shoulder is somewhat uneven. Persevere. You could cut in chunks if you prefer. Serve with basmati rice and stir-fried mixed greens such as kale, Swiss chard, spinach or escarole lettuce.
1 boned rolled shoulder of lamb or 4 lamb shanks, 3 lbs (1.5 kg) total
Salt and freshly ground pepper
2 tsp (10 mL) garam masala
1 tsp (5 mL) ground cumin
1 tsp (5 mL) ground ginger
1 tsp (5 mL) ground coriander
½ tsp (2 mL) cinnamon
½ tsp (2 mL) cayenne
2 tbsp (30 mL) vegetable oil
3 medium onions, about 4 cups (1 L) cut in wedges
6 medium carrots, peeled and cut in 2 inch (5 cm) pieces, about 3 cups (750 mL)
4 celery sticks cut in 2 inch (5 cm) pieces, about 2 cups (500 mL)
1 head of garlic, sliced in half
1 jalapeño pepper, seeded and diced, about ¼ cup (60 mL)
1 cup (250 mL) red wine
2 cups (500 mL) beef stock
2 tbsp (30 mL) tomato paste
3 star anise
1 cup (250 mL) halved dates
2 tbsp (30 mL) pickled or preserved lemon
Salt and freshly ground pepper
2 tbsp (30 mL) chopped coriander
1. Preheat oven to 275°F (135°C).

2. Season meat with salt and pepper. Combine garam masala, cumin, ginger, coriander, cinnamon and cayenne. Heat a large frying pan over high heat and add oil. Add meat fat-side down and brown well, about 2 to 4 minutes a side. Transfer to a baking sheet. Scatter 1 tbsp (15 mL) of spice mixture over lamb.

3. Add onions, carrots, celery, garlic and jalapeño to the pan. Sear until golden brown, about 5 minutes. Stir in remaining spice mixture and cook for 30 seconds. Place vegetables in an ovenproof baking dish or Dutch oven and place meat on top of vegetables, nestling it in. Pour wine into frying pan, bring to a boil and boil for 2 minutes, scraping up any bits on the base of the pan until wine reduces slightly. Add stock, tomato paste and star anise, bring to boil and pour over meat. Cover with a lid.

4. Bake for 2 hours or until meat is tender with a little resistance to the fork. Add dates and lemon and stir together. Cook another 45 minutes to 1 hour or until meat is fork-tender. Cool and refrigerate overnight if preferred (making fat easier to remove).

5. Remove lamb from sauce and slice into ½-inch-thick (1-cm) slices. Skim fat from the sauce and discard. Return meat and reheat sauce with all its vegetables, reseasoning with salt and pepper if needed.

6. Arrange on a platter and garnish with coriander.
SHARE