Advieh-Spiced Steak Sandwich
Early Summer 2015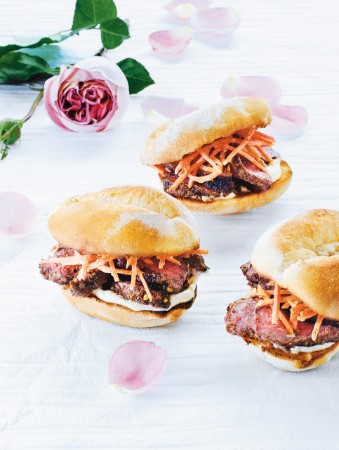 Advieh-Spiced Steak Sandwich
Early Summer 2015
BY: Christopher St. Onge
A spice mixture hailing from Persia, advieh features dried rose petals combined with other more familiar spices to create a complex, fragrant blend. Of course there are many variations, but this one—with its forward coriander seed, cumin and rose petal notes—is wickedly good on grilled steak. If you fancy yourself a grill pro, by all means fire up the charcoal for this one, but if not, don't worry—good old gas will do, too.
1 tbsp (15 mL) coriander seeds
1 tbsp (15 mL) dried rose petals
¼ tsp (1 mL) ground cardamom
1 tsp (5 mL) ground cinnamon
2 tsp (10 mL) ground cumin
½ tsp (2 mL) salt
¼ tsp (1 mL) freshly ground black pepper
3 tbsp (45 mL) olive oil
1¼ lbs (625 g) flank steak

SESAME CARROT SLAW
1 clove garlic
¼ tsp (1 mL) salt
1 tbsp (15 mL) tahini
1 tbsp (15 mL) grape-seed or canola oil
1 tbsp (15 mL) lemon juice
1 tbsp (15 mL) cool water
2 medium carrots, peeled and julienned or coarsely grated
¼ cup (60 mL) finely chopped cilantro
1 tbsp (15 mL) toasted sesame seeds

TO SERVE
8 small rolls or buns
Olive oil for brushing
⅓ cup (80 mL) mayonnaise
1 Using a mortar and pestle, or the side of a large chef's knife, lightly crush the coriander seeds and rose petals, leaving some larger pieces of coriander for texture. Remove to a large re-sealable plastic bag and add cardamom, cinnamon, cumin, salt and pepper; drizzle olive oil over and massage bag to combine. Place steak in bag and turn over as necessary to evenly coat in spice mixture; seal and allow to rest at room temperature for 1 hour.

2 Preheat grill to medium.

3 To prepare sesame carrot slaw, finely chop garlic, then cream by sprinkling salt over and working with the side of a chef's knife; scrape mixture into a large bowl. Add tahini, oil, lemon juice and water; whisk to combine. Toss carrots, cilantro and sesame seeds with dressing; set aside.

4 Grill steak with barbecue lid closed for 5 minutes per side for medium-rare. Remove steak when done and let rest an additional 5 minutes. Split buns and brush cut side of each half with olive oil; toast over grill until lightly charred.

5 To assemble, spread mayonnaise in a thin layer on both top and bottom buns. Thinly slice steak and divide between bottoms, garnish with slaw, and top with bun halves.
SHARE