Abalone Mushrooms with 6-Minute Eggs
Holiday 2013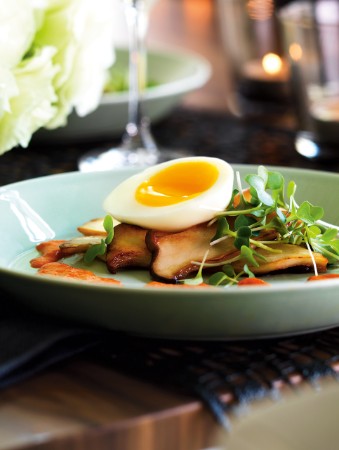 Abalone Mushrooms with 6-Minute Eggs
Holiday 2013
BY: Lucy Waverman
Abalone or king mushrooms are meaty and flavourful, an excellent base for a soft-boiled egg. Garlicky and sweet, Romesco Sauce adds a punch of flavour to the pairing. Garnish with any kind of seedlings you can find.
8 oz (250 g) abalone mushrooms, trimmed
Salt and freshly ground pepper
3 tbsp (45 mL) butter
2 eggs
2 cups (500 mL) mustard seedlings or other kind of seedlings
1 Cut mushrooms lengthwise in 1/8-inch (3-mm) slices. Season with salt and pepper.

2 Heat butter in a large skillet over medium heat. Add mushrooms and cook for 6 to 8 minutes, or until golden on both sides and tender. Reheat when needed.

3 Bring a small pot of water to boil. Add eggs and boil for exactly 6 minutes. Drain, running under cold water until cold, and peel.

4 Divide warm mushroom slices on 4 plates. Cut each egg in half and place yolk-side up on the plate. Sprinkle with salt and pepper. Serve with Romesco Sauce (recipe follows) drizzled around the plate. Top with seedlings.

ROMESCO SAUCE

For the sake of authenticity, you can use a mortar and pestle to pound all the ingredients together. I opted for a food processor instead. The roasted pepper in this recipe can be homemade or store-bought. Try the Italian kind available in a jar. For a truly authentic dish, use a mild New Mexican dried red pepper like guajillo or ancho or substitute another ½ tsp (2 mL) smoked Spanish paprika and a pinch of cayenne.

1 dried New Mexican or ancho chili pepper
1/3 cup (80 mL) olive oil
½ cup (125 mL) slivered almonds
¼ cup (60 mL) fresh bread crumbs
½ cup (125 mL) chopped tomatoes, fresh or canned
½ cup (125 mL) chopped roasted red pepper
1 tsp (5 mL) chopped garlic
½ tsp (2 mL) sweet Spanish paprika
1 tbsp (15 mL) sherry vinegar
Salt to taste
1 Pour boiling water over the chili and let sit for 30 minutes or until softened. Cut open and remove seeds. Chop up chili.

2 Heat 2 tbsp (30 mL) oil in a skillet over medium heat. Add almonds and sauté for 2 to 3 minutes, or until lightly browned. Add bread crumbs and sauté until golden, about 1 minute. Remove from heat and stir in chopped chili.

3 Place skillet ingredients in food processor along with remaining ¼ cup (60 mL) oil, tomatoes, red peppers, garlic and paprika. Process until smooth, then add vinegar. Season with salt to taste. If purée s too thick, thin down with a little water.
SHARE