Fragrant Slow-Braised Lamb Shoulder with Fingerling Potatoes
Holiday 2016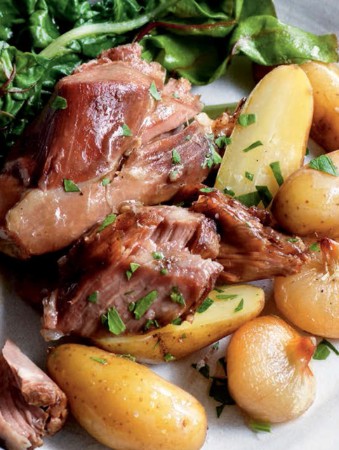 Fragrant Slow-Braised Lamb Shoulder with Fingerling Potatoes
Holiday 2016
BY: Lucy Waverman
This is a wonderful dish for lamb lovers. The meat is succulent, the sauce full of flavour. Serve with sautéed spinach or kale on the side. If the sauce does not get thick enough, add some cornstarch and water mixture to it when it has reduced, to thicken slightly. Cipollini onions are the size of golf balls but are flat at the top and bottom.
12 cipollini onions
1 head garlic
4 lbs (2 kg) shoulder of lamb on the bone
Salt and freshly ground pepper
1 tbsp (15 mL) olive oil
4 sprigs fresh rosemary
6 anchovies, diced
2 cups (500 mL) beef, lamb or chicken stock
½ cup (125 mL) red wine
12 fingerling potatoes, scrubbed
3 tbsp (45 mL) chopped parsley
1 Preheat oven to 275°F (140°C).

2 Place cipollini onions in small pot. Cover with cold water and bring to boil. This step makes peeling easier. Drain onions and refresh with cold water. Peel and reserve. Slice top off the garlic so as to just expose the cloves.

3 Season lamb well with salt and pepper. In a heavy ovenproof pot, add oil. Scatter around rosemary and anchovies. Place lamb on top, basting with a little anchovy rosemary oil. Cover and bake for 2½ hours. Bring stock and wine to a boil together in a pot. Add onions, garlic and fingerling potatoes to the lamb pot. Stir hot stock into to the lamb pot. Return to oven and bake, covered, for another 2 hours or until lamb is very tender.

4 Remove lamb and vegetables from pot and reserve. Squeeze garlic out of the head. Skim fat from sauce. Place pot on stove over high heat and whisk in the soft garlic cloves. Bring sauce to boil and reduce until flavours have intensified, 8 to 10 minutes.

5 Remove bones from lamb shoulder. They slip out really easily. Cut lamb in chunks to serve. Moisten with the sauce. Serve with potatoes and onions and sprinkle with parsley.
SHARE