"Sannich" In Soup
Winter 2008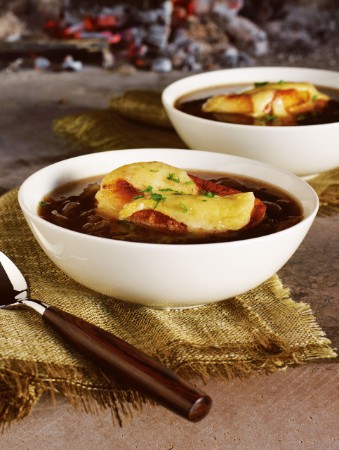 "Sannich" In Soup
Winter 2008
BY: Marilyn Bentz-Crowley
Elegant French onion soup becomes hip with this gooey grilled-cheese "sannich"―Australian slang for sandwich―slid into the bowl. For onions, choose sweet varieties such as large Spanish or red, as they caramelize well. And if Swiss cheeses are not favourites, medium or old cheddar is a delicious stand-in. Be warned, most purchased broths are quite salty, so season only after the soup is finished.
Soup
1½ lbs (750 g) sweet onions, about 2 to 3 medium
1 tbsp (15 mL) butter
3 cups (750 mL) beef broth
3 cups (750 mL) chicken broth
½ cup (125 mL) dry red wine
1 large sprig fresh thyme
1 large bay leaf
1 tsp (5 mL) balsamic vinegar
Several grindings of black pepper
Salt
2 tbsp (25 mL) finely chopped fresh parsley

"Sannich"
1 baguette
2 to 3 tbsp (25 to 45 mL) soft butter
½ lb (250 g) Emmenthal
½ lb (250 g) Gruyère
Additional parsley
1. Slice onions very thinly preferably using a mandoline or food processor. Heat butter in a large saucepan over medium heat until melted. Add onions all at once; adjust heat upwards towards medium-high as needed to cook onions. Stirring occasionally, sweat onions for 25 minutes or until onions are pale golden, greatly reduced in volume and a deep brown slick is forming on pan bottom. (Watch carefully towards end of cooking time to prevent burning.)

2. Stir in broths, wine, thyme and bay leaf. Bring to a boil; cover and reduce heat. Simmer for 20 to 25 minutes. Discard bay leaf and thyme sprig. Stir in vinegar and black pepper; taste and add pinches of salt if needed. Stir in parsley. (If making ahead, cover and refrigerate for up to 3 days. Or divide into containers and freeze for up to a month.)

3. Slice bread on a slight diagonal into ½-inch-thick (1-cm) slices, 2 slices for every portion intended to be served. Lightly butter 1 side of each slice. Slice cheeses. Make a sandwich, buttered-sides out, with a slice of each kind of cheese inside (trim cheese to fit as needed). Take remaining cheese slices and scraps and cut crosswise into long thin pieces. (Sandwiches can be made ahead and refrigerated for a day.)

4. Heat soup until very hot, but not boiling. Using a large frying pan or griddle, slowly grill sandwiches over medium-low heat for 10 minutes per side or until bread is golden on both sides and interior cheese is melted. Heap remaining cheese pieces on top of sandwiches while still in pan; broil 1 to 2 minutes or until melted.

5. Ladle soup into bowls. Slide a sandwich into each portion and serve immediately sprinkled with additional chopped parsley.
SHARE