"Nose-To-Tail" Carrots with Labneh
Temps des Fêtes 2015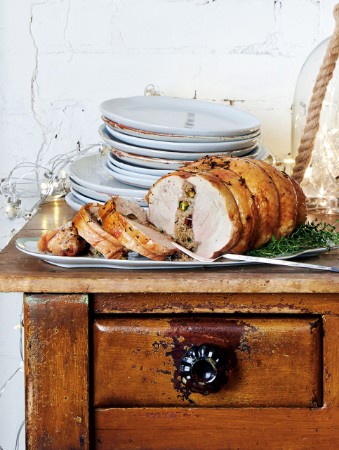 "Nose-To-Tail" Carrots with Labneh
Temps des Fêtes 2015
BY: Christopher St. Onge
We're all into the waste-not, want-not ethos of nose-to-tail eating these days —and so we should be—but there's no need to freak out the friends or parents with strange animal parts. Stay on trend with these carrots, smartly dressed with their own tops fried crunchy-crisp. Labneh is very thick strained yogurt with a texture similar to cream cheese.
1 cup (250 mL) 10% MF Greek yogurt
Cheesecloth
2 bunches slender carrots with fresh greens, 16 to 18 total
Vegetable oil for shallow frying
Salt
½ cup (125 mL) chicken stock
Pinch saffron
½ tsp (2 mL) ground cumin
½ tsp (2 mL) sweet paprika
1 tsp (5 mL) runny honey
1 tbsp (15 mL) sherry vinegar
1 head garlic, cut in half through the equator
2 tbsp (30 mL) olive oil
Freshly ground pepper
1 Six hours or so before you plan to eat, measure yogurt and turn out onto 4 layers of cheesecloth large enough to enclose yogurt. Gather corners and tie around a long spoon handle. Arrange over a deep bowl allowing yogurt bundle to hang over centre of bowl to drain. Refrigerate.

2 Meanwhile, remove tops from carrots and pick a generous 1 cup (250 mL) of fronds from the stems; wash and thoroughly dry. Discard stem and remaining tops.

3 Heat a 1-inch (2.5-cm) depth of vegetable oil in a large saucepan to 375°F (190°C). Fry carrot tops in batches for 10 seconds or so, until crisp. Remove to a paper-towel-lined plate to drain. Sprinkle with salt and set aside (fried tops will keep for up to a day, uncovered at room temperature).

4 In a small bowl, whisk together chicken stock, saffron, cumin, paprika, honey and vinegar. Scrub carrots and place on a large baking sheet along with garlic; drizzle with olive oil and pour chicken stock mixture over. Season with salt and pepper and wrap pan tightly with foil.

5 Place on lower rack and cook in 350°F (180°C) oven for 30 minutes. Once turkey is cooked, increase oven temperature to 450°F (230°C), remove foil from carrots and cook an additional 20 to 25 minutes, shaking pan from time to time, or until carrots are deeply caramelized. Turn carrots and garlic out onto platter; unwrap strained yogurt from cheesecloth and scatter small dollops over carrots. Top with fried carrot tops.


SHARE