Turkish-Style Lamb Shoulder
Printemps 2015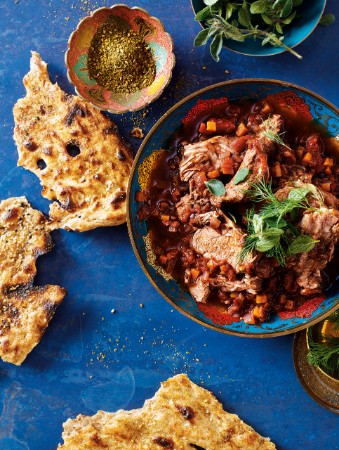 Turkish-Style Lamb Shoulder
Printemps 2015
BY: Lucy Waverman
Lamb is a key element in Middle Eastern cooking. From Turkey through to Syria and Lebanon it is used as a slow-braised main or grilled as kebabs. Shoulder of lamb is a delicious cut. The meat is tasty and tender. The only issue is carving, but as this meat comes out fork-tender, it is easy to remove from the bone structure of the shoulder with a sharp knife.
4 lbs (2 kg) lamb shoulder
Salt and freshly ground pepper
1 tsp (5 mL) ground allspice
1 tsp (5 mL) ground cinnamon
3 tbsp (45 mL) olive oil
2 cups (500 mL) finely chopped onions
1 cup (250 mL) finely chopped carrots
1 cup (250 mL) red wine
1 can (798 mL) tomatoes, chopped
1 cup (250 mL) beef or chicken stock
2 bay leaves
2 tbsp (30 mL) chopped fresh dill
2 tbsp (30 mL) chopped fresh oregano

GARNISH
2 tbsp (30 mL) chopped fresh dill
1 tbsp (15 mL) chopped fresh oregano
1 Preheat oven to 300°F (150°C).

2 Season lamb with salt, pepper, allspice and cinnamon.

3 Heat 2 tbsp (30 mL) oil in a large skillet over high heat. Add lamb and brown well all over, about 8 minutes in total. Remove to a large ovenproof pot.

4 Wipe skillet clean and return to medium high heat. Add remaining tbsp (15 mL) of oil. Add onion and sauté until softened, about 2 minutes. Add carrots and sauté for another 3 minutes or until softened. Pour in wine and bring to boil. Simmer for 2 to 3 minutes or until reduced slightly. Add tomatoes, stock, bay leaves, dill and oregano, and return to a boil. Remove from heat and pour sauce around lamb. Cover and bake for 2½ hours. Remove lid and continue to cook until meat is fork tender, 15 to 30 more minutes.

5 Remove lamb to a carving board and skim fat off the sauce. If sauce is too thin, bring to a boil on the stove top and cook until sauce is thick enough to coat the back of a spoon, about 5 to 10 minutes.

6 Remove meat from the bone and return it to sauce. Garnish with dill and oregano. Serve with Za'atar Flatbread (recipe follows).

ZA'ATAR FLATBREAD

Flatbreads are the bread of choice all over the area. If you can find them, Iranian flatbreads are more delicate and tastier than pita, but both work. Za'atar is often a mixture of green herbs such as thyme, oregano and za'atar itself (a kind of wild thyme) with salt and sesame seeds. It is available dried.

2 large flatbreads or pitas
2 tbsp (30 mL) olive oil
2 tbsp (30 mL) za'atar
Coarse salt
1 Heat oven to 375°F (190°C). Brush flatbread with oil and sprinkle with za'atar and salt. Bake 6 to 8 minutes or until flatbread has puffed up and is crisp.
SHARE