Spring Panzanella Parfait
Début de l'été 2017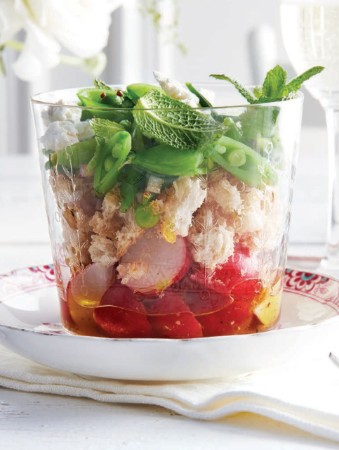 Spring Panzanella Parfait
Début de l'été 2017
BY: Eshun Mott
This bright and crunchy salad looks just as pretty as it tastes fresh. Look for radishes with healthy greens attached, as older radishes can become sharp and bitter tasting. Focaccia is the perfect bread for this version of panzanella as it makes crisp but light croutons. All the parts of this salad can be prepared ahead, but layer the salad in the glasses no more than about 30 minutes ahead of eating or the croutons will begin to soften.
4 slices focaccia, ½ inch (1 cm) thick, crusts removed, torn into small pieces, about 4 loose cups
4 tsp (20 mL) olive oil
Salt
7 oz (200 g) sugar snap peas

DRESSING
⅓ cup (80 mL) extra virgin olive oil
2 tbsp (30 mL) sherry vinegar
1 tbsp (15 mL) red wine vinegar
2 tsp (10 mL) honey
2 tsp (10 mL) grainy Dijon mustard
2 tbsp (30 mL) finely chopped shallot
Salt and freshly ground pepper
7 oz (200 g) small radishes, trimmed, halved or quartered (2 to 3 bunches)
½ cup (125 mL) crumbled feta
2 tbsp (30 mL) coarsely chopped mint leaves, plus small sprigs and leaves to garnish
1. Preheat oven to 375°F (190°C).

2. For croutons, toss torn bread with olive oil and a pinch of salt. Spread out on a baking sheet in a single layer. Bake for 8 to 10 minutes or until crisp and lightly golden. Reserve.

3. Trim stem ends and remove strings from sugar snap peas. Blanch in boiling salted water for 30 seconds or until bright green and tender-crisp. Drain and transfer to a bowl of ice water to stop them from cooking further. Drain and cut on the bias into 1-inch (2.5-cm) lengths. Reserve.

4. Whisk together oil, vinegars, honey and mustard. Stir in shallot and season with salt and pepper to taste.

5. Divide radishes between 6 to 8 glasses and pour about 1 tbsp (15 mL) dressing into each. Add a layer of croutons then a layer of sugar snap peas. Crumble feta on top. Season with a small grind of fresh pepper. Drizzle about a ½ tsp (2 mL) of dressing overtop each glass and top with mint.
SHARE