Vietnamese Sticky Pork Curry
Autumn 2006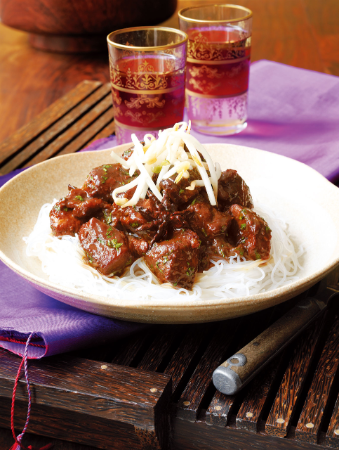 Vietnamese Sticky Pork Curry
Autumn 2006
BY: Lucy Waverman
The pork is cooked slowly with spices and some sugar for a sticky, sweet, spicy dish. This dish has a Korean background but is not traditionally Korean. Some heat balances the stickiness.
2 lbs (1 kg) pork shoulder
¼ cup (50 mL) miso
1 tbsp (15 mL) sugar
½ cup (125 mL) light soy sauce
1 tbsp (15 mL) Korean chili sauce or Asian chili sauce
¼ cup (50 mL) rice vinegar
3 star anise
Salt and freshly ground pepper
2 tbsp (25 mL) vegetable oil
1 tbsp (15 mL) sliced garlic (about 6 slices)
1 tbsp (15 mL) sliced ginger
1 cup (250 mL) water
2 cups (500 mL) carrots, cut into 1-inch (2.5-cm) cubes
6 shallots, cut in half
2 tbsp (25 mL) chopped coriander
1. Cut pork shoulder into 1-inch (2.5-cm) cubes.

2. Combine miso, sugar, soy sauce, Korean chili sauce, rice vinegar and star anise.

3. Toss ¼ cup (50 mL) of mixture with pork cubes and marinate overnight.

4. Preheat oven to 300ºF (150ºC).

5. Remove pork from marinade and pat dry. Season with salt and pepper. Heat oil in a skillet over medium-high heat. Sear pork cubes 1 minute per side or until browned and place in a casserole.

6. Add garlic and ginger to oil. Toss together, then add reserved marinade and water. Bring to boil, reduce heat to simmer and return pork and cover.

7. Bake for 30 minutes and add carrots and shallots. Remove lid and bake another 30 to 45 minutes longer or until pork is tender and sauce is reduced.

8. Remove pork from liquid and reduce liquid (if it needs it) until it coats the back of a spoon, about 3 minutes. Return pork and stir in coriander. Serve over rice noodles.


Share