Tomato Chili Jam
Autumn 2012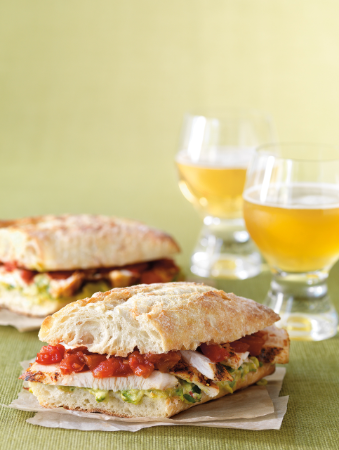 Tomato Chili Jam
Autumn 2012
BY: Lucy Waverman
This thick condiment goes well with everything from french fries to a topping for hamburgers. If good fresh tomatoes are not available then use 1 can (798 mL) chopped tomatoes with juice.
1 jalapeño or serrano chili, seeded and finely chopped
1 tsp (5 mL) chopped garlic
2 tbsp (30 mL) ginger, chopped
2 tbsp (30 mL) fish sauce
1/3 cup (80 mL) brown sugar
1/3 cup (80 mL) red-wine vinegar
2 lbs (1 kg) Roma tomatoes, seeded and diced
Asian chili sauce, to taste
1 Place jalapeño, garlic, ginger, fish sauce, brown sugar and vinegar in a saucepan.

2 Bring to boil slowly, stirring constantly. When it reaches a boil, lower heat to a simmer and add diced tomatoes.

3 Simmer gently for 40 to 50 minutes or until dark red and jam-like. If jam is too sweet addAsian chili sauce to taste.

4 Pour into a bowl, cool and place in jars. Refrigerate for up to a month.
Makes about 1½ to 2 cups (375 to 500 mL)
Share