Spicy Sausage, and Fennel Rigatoni
Autumn 2008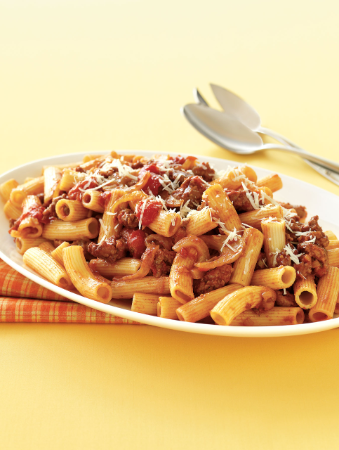 Spicy Sausage, and Fennel Rigatoni
Autumn 2008
BY: Heather Trim
Hearty Italian comfort food at its best. The sauce can be made ahead and freezes well too.
2 tbsp (25 mL) olive oil
1 onion, chopped
4 Italian sausages, hot, mild or a combo
½ small fennel bulb
½ tsp (2 mL) fennel seeds (optional)
½ cup (125 mL) red wine
One 796 mL can plum tomatoes
One 454 g pkg rigatoni
Grated Parmesan
1. Bring a large pot of salted water to a boil. Meanwhile in a large wide saucepan, heat oil over medium heat. Add onion and sauté a couple of minutes. Split open sausage casings and scrape out meat and add to pan. Using a fork, stir continuously, to break up meat until nearly cooked. Add fennel, garlic and fennel seeds. Cook a couple of minutes then add wine. Boil until wine is nearly evaporated, then add plum tomatoes. Smash with a potato masher to break up tomatoes. Simmer, uncovered, until slightly thickened, about 15 minutes.

2. While sauce is simmering, add pasta to boiling water and cook following package directions. Drain. Top pasta with sauce. Serve with Parmesan.
Share