Spicy Pulled-Beef Sandwiches
Holiday 2005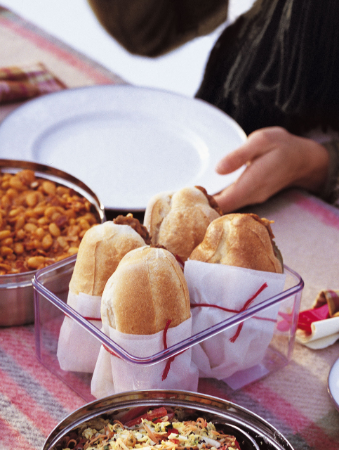 Spicy Pulled-Beef Sandwiches
Holiday 2005
BY: Marilyn Bentz-Crowley
Smoked paprika has smooth natural smokiness from roasting over oak logs and is startlingly different from everyday paprika. You can find smoked paprika in a variety of 'heat' levels in specialty food stores or Italian markets.
2½ to 3 lbs (1.25 to 1.5 kg) round roast or cross-rib pot roast
2 to 3 tbsp (25 to 45 mL) canola or peanut oil
2 large yellow cooking onions, thinly sliced
2 large green peppers, thinly sliced
2 large garlic cloves
1 tbsp (15 mL) smoked hot paprika
¼ cup (50 mL) all-purpose flour
3 tbsp (45 mL) tomato paste
2 to 2½ cups (500 to 625 mL) beef stock or broth
Salt to taste
Sour Cream
Sweet onions, thinly sliced
8 to 10 ciabata or crostini rolls or whole-wheat pita pockets
1. Trim fat from beef; discard. Cut meat into 4 or 5 large chunks. Heat 2 tbsp (25 mL) oil in a shallow Dutch oven or other large pot over medium-high heat. Brown meat well on all sides. Remove meat; reduce heat to medium. Adding remaining oil if needed, add onions, green peppers and garlic. Cook 5 minutes, stirring occasionally, or until onion has softened.

2. Meanwhile, mix paprika with flour. Stir into vegetables; cook 2 minutes. Stir in tomato paste; then slowly mix in 2 cups (500 mL) stock. Return beef to pan; push to submerge in liquid. Add more stock if needed so liquid is halfway up sides of beef chunks. Bring to a boil then cover and reduce heat so broth just simmers. Braise, stirring occasionally, for 1½ to 2 hours or until meat can easily be separated with 2 forks.

3. Remove beef to a plate; pull apart into shreds using 2 forks. Meanwhile, increase heat to medium-low and simmer broth in pan, uncovered, for 5 to 10 minutes or until glossy and thickened. Return shredded beef to broth; add salt to taste if needed. Stir occasionally until hot. Spoon meat into rolls. If you like, pass bowls of cooling sour cream and thinly sliced sweet onions for everyone to add to their taste. Covered and promptly refrigerated, beef keeps well for 2 to 3 days.
Share