Smoky Pork on a Fork
Holiday 2015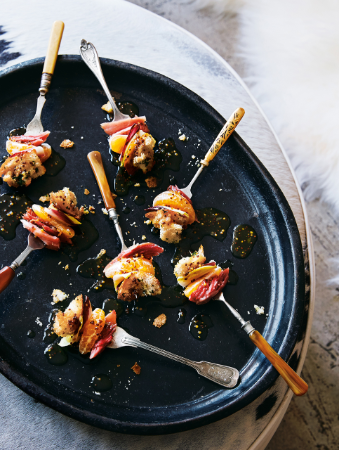 Smoky Pork on a Fork
Holiday 2015
BY: Christopher St. Onge
The best appetizers are the kind that can be prepped a day ahead and assembled in a flash on the big day. It helps too if they're delicious, and this one fits the bill on both counts. Cheap and delicious, smoked pork hock is sold in pieces large enough for leftovers. The rest of the shredded braised meat is good stuff on mustardy sandwiches the next day.
1 smoked pork hock, about 3 lbs (1.5 kg)
4 cups (1 L) water
5 whole cloves
2 fresh bay leaves, or 1 dried
3 tbsp (45 mL) light brown sugar
Juice of 1 clementine
1 tbsp (15 mL) grainy mustard
24 bite-sized pieces of torn Italian bread
3 tbsp (45 mL) salted butter, melted
1 clove garlic, finely chopped
1 tbsp (15 mL) finely chopped parsley
24 clementine segments (you'll need 3 whole fruit or so)
1 Belgian or red endive, leaves separated and torn into bite-sized pieces

1. Combine pork hock, water, cloves, and bay leaves in a pot large enough to accommodate the pork. Bring to a boil over medium heat, reduce to low, cover and simmer until fork-tender, about 3 hours. Discard bay leaves and cloves.

2. Remove hock to a cutting board and, when cool enough to handle, tear meat into bite-sized pieces; discard fat and bones. Set 24 pieces of meat in a small microwave-safe bowl and pour roughly half of the braising liquid over the meat. Cover and refrigerate until ready to serve (meat can be held in fridge for up to 5 days).

3. Dissolve sugar in remaining braising liquid and bring to a boil over medium-high heat. Reduce to ¼ cup (60 mL)—mixture is thick and sticky; remove from heat. Stir in clementine juice and mustard. Pour into a small glass jar or bowl, cover and refrigerate until ready to serve (glaze may be made up to 5 days in advance).

4. Preheat oven to 375°F (190°C).

5. In a bowl, toss bread pieces with butter, garlic and parsley. Turn out onto a cookie sheet and bake for 8 to 10 minutes or until crisp and golden. Cool and hold at room temperature, uncovered, for up to a day.

6. When ready to assemble, warm pork pieces in the microwave to desired temperature. Liquify glaze alongside pork in microwave by heating through.

7. Gather as many forks as you're able to and pierce a piece of pork onto each; follow this with a clementine segment, a piece or 2 of endive and a single crouton each. Arrange on a platter and drizzle with glaze. Repeat with washed forks if unable to do it all in one go.


Share