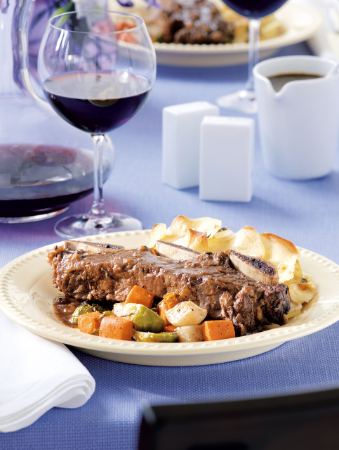 BY: Lucy Waverman
It is best to make this outstanding, flavourful dish a couple of days ahead. Once cooked, chill well and then remove the fat. There are different kinds of short ribs and any will do but I prefer the ones that come from under the brisket which do not have the tougher top layer. They are sometimes called Miami ribs.
6 beef short ribs, 14 to 16 oz (400 to 500 g) each

Marinade
2 tbsp (25 mL) olive oil
1 tbsp (15 mL) chopped fresh thyme leaves
1 tbsp (15 mL) cracked black pepper
1 tbsp (15 mL) cracked fennel seed
2 tbsp (25 mL) thinly sliced garlic
Salt to taste


Sauce
1/3 cup (75 mL) olive oil
2 cups (500 mL) chopped onion
2 tbsp (25 mL) balsamic vinegar
2 cups (500 mL) red wine
4 cups (1 L) beef stock
1 tbsp (15 mL) tomato paste
4 sprigs flat-leaf parsley
2 bay leaves


1.  Season short ribs with olive oil, thyme leaves, black pepper, fennel and sliced garlic. Cover and marinate in the refrigerator overnight.

2. Remove ribs from refrigerator an hour before cooking and allow to come to room temperature. Scrape off garlic slices and reserve. Season with salt on all sides.

3.  Preheat oven to 300°F (150°C).

4.  Heat a large skillet over medium-high heat for 2 minutes. Add 3 tbsp (45 mL) olive oil (it should be just about smoking). Working in batches, add short ribs to pan and sear until nicely browned on all three meaty sides, about 1½ to 2 minutes per side. Add more oil as needed. Transfer ribs to a large pot with a lid, standing them bone-side up.  Drain skillet reserving 1 tbsp (15 mL) fat for onions.

5.  Reduce heat to medium and add onion and reserved garlic slices. Stir, scraping up all the bits from the bottom of the pan. Cook for 3 to 4 minutes or until onions just begin to brown around the edges. Add balsamic vinegar and red wine. Turn heat to high and reduce liquid by half, about 4 minutes. Add stock and tomato paste and bring to a boil.

6.  Pour contents of skillet over short ribs. The stock mixture should come to bone level. Tuck parsley sprigs and bay leaves in and around the meat. Cover tightly with aluminum foil and a tight-fitting lid. Braise in the oven for about 3 to 3½ hours or until meat is fork tender.

7.  Remove parsley stalks and bay leaves. Chill for 24 hours to make it easier to remove the fat or skim fat from sauce. Reheat ribs and sauce together. Remove ribs to a serving dish. If sauce seems thin, reduce over medium-high heat to thicken slightly. Taste for seasoning and pour over ribs. Serve with Potato Gratin and Roasted Vegetables (recipes follow).




Potato Gratin
Rich and delicious, this gratin could be served with any roast.  You can use all milk but it is not as luscious.

2 tbsp (25 mL) butter
2 lb (1 kg) Yukon Gold Potatoes, peeled
2 tsp (10 mL) chopped garlic
2 tsp (10 mL) chopped fresh thyme
Salt and freshly ground pepper
1 cup (250 mL) milk
1 cup (250 mL) whipping cream
1.  Preheat oven to 350°F (180°C).

2.  Butter a 6 cup (1.5 L) gratin dish and reserve.

3.  Thinly slice potatoes and place in prepared gratin dish in overlapping layers, sprinkling each layer with garlic, thyme, salt and pepper as you go.

4.  Combine milk and cream and season with a little salt. Pour over potatoes.

5.  Cover with foil and bake for 45 minutes or until potatoes are softened. Remove foil and bake another 30 minutes or until potatoes are very soft and top is a little crusty. Remove from oven and let sit for 10 minutes to allow liquid to reabsorb.

Roasted Vegetables

These vegetables are the garnish for the short ribs or may be used as a side dish for any braised meat.

3 cups (750 mL) peeled and diced rutabaga 1-inch (2.5-cm) pieces)
3 cups (750 mL) diced carrots 1-inch (2.5-cm) pieces
3 cups (750 mL) trimmed and halved Brussels sprouts
¼ cup (50 mL) olive oil
Salt and freshly ground pepper
6 sprigs of rosemary
1.  Preheat oven to 425°F (220°C).

2.  Add rutabaga to a pot of cold water. Bring to boil and boil for 4 to 5 minutes or until rutabaga has some give when pierced with a fork. Drain and remove to a bowl. Add carrots and Brussels sprouts and toss with oil. Season with salt and pepper. Lay on oiled baking sheet and sprinkle with rosemary sprigs.

3.  Roast vegetables stirring occasionally, for 15 to 20 minutes or until tender.

4.  To serve, place potato gratin and short rib on a plate, surround with vegetables and pour over sauce.
Share