Sesame-Grilled Baby Bok Choy Salad
Summer 2011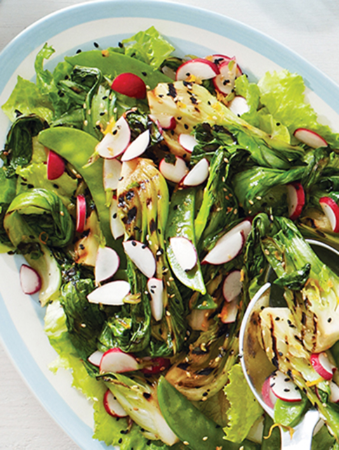 Sesame-Grilled Baby Bok Choy Salad
Summer 2011
BY: Jennifer MacKenzie
The toasted sesame and orange in the dressing enhance the toasty flavour of grilled baby bok choy wonderfully in this attractive salad. The bok choy can be grilled just before you plan to serve the salad to serve hot, or grill it a few hours ahead and serve it at room temperature. Assemble the salad just before serving to keep everything fresh and crisp.
1 tsp (5 mL) grated orange zest
½ cup (125 mL) fresh orange juice
2 tbsp (30 mL) vegetable oil
1 tbsp (15 mL) toasted sesame oil
½ tsp (2 mL) dry mustard
Salt and freshly ground pepper
6 baby bok choy, about 1½ lbs (750 g)
8 oz (250 g) snow peas, trimmed
8 red radishes, halved and thinly sliced
8 large leaves curly leaf lettuce
White and black sesame seeds
1 Whisk together orange zest, orange juice, vegetable oil, sesame oil, mustard, ½ tsp (2mL) salt and ¼ tsp (1 mL) pepper in a measuring cup.

2 Heat barbecue to medium.

3 Trim ends and any tough outer leaves from bok choy. Cut in half lengthwise and place in a large bowl. Pour in ¼ cup (60 mL) of the dressing and toss to coat. Grill, turning once, for 4 to 5 minutes per side or until grill-marked and starting to get tender. Return to bowl, cover with plastic wrap and let steam for about 10minutes or until tender crisp.

4 Meanwhile, blanch snow peas in a large pot of boiling salted water for 2 minutes or until bright green and tender-crisp. Drain and plunge into a bowl of ice water; let stand until chilled. Drain and pat dry.

5 Just before serving, drain any accumulated liquid from bok choy and cut each half in half again lengthwise. Return to bowl and add snow peas and radishes. Pour in remaining dressing and toss to coat. Season to taste with salt and pepper.

6 Tear leaf lettuce into bite-size pieces and arrange on a platter. Arrange bok choy mixture on top and drizzle with dressing remaining in bowl. Sprinkle with sesame seeds.
Share