Roasted Halibut with Tomato Curry Sauce and Cauliflower Rice Pilaf
Holiday 2010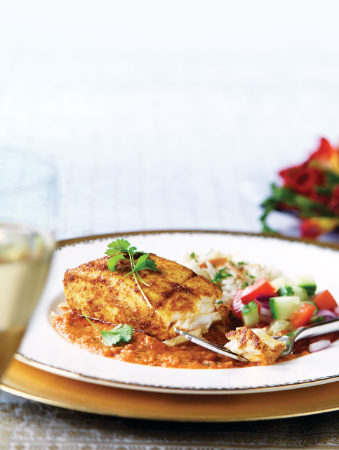 Roasted Halibut with Tomato Curry Sauce and Cauliflower Rice Pilaf
Holiday 2010
BY: Lucy Waverman
This dish only has a hint of spice. You can make it hotter by adding a little cayenne into it. I prefer to slightly undercook the fish for maximum juiciness. Place halibut on top of the curry sauce for a lovely contrast in colour.
HALIBUT
2 tbsp (25 mL) vegetable oil
2 tbsp (25 mL) mild Indian curry paste
1 tsp (5 mL) grated ginger
4 pieces halibut, 6 oz (175 g) each

CURRY SAUCE
1 tbsp (15 mL) vegetable oil
1 cup (250 mL) chopped onions
1 tbsp (15 mL) chopped ginger
1 tbsp (15 mL) chopped garlic
2 tsp (10 mL) ground coriander
2 tsp (10 mL) ground cumin
1/4 tsp (1 mL) cayenne pepper
11/2 cups (375 mL) chopped canned tomatoes with their juices
1 cup (250 mL) chicken stock or water
1/2 cup (125 mL) coconut milk
1 to 2 tbsp (15 to 25 mL) mango chutney
Salt and freshly ground pepper
2 tbsp (25 mL) chopped coriander
Salt to taste
1 Combine oil, curry paste and ginger in a bowl. Place halibut in a metal baking dish and brush curry paste mixture over fish. Let sit for 30 minutes.

2 Heat vegetable oil in a skillet over medium heat. Add onions and cook until softened, about 8 to 10 minutes. Add ginger and garlic and cook another minute. Stir in coriander and cumin and cook for another minute. Add cayenne, tomatoes and chicken stock and bring to a boil. Reduce heat and simmer gently for 10 minutes. Add coconut milk and mango chutney and simmer for 10 minutes longer. If the flavour is too sharp add a little more mango chutney. Flavours should be balanced.

3 Purée sauce using an immersion blender. Season with salt and pepper to taste and stir in chopped coriander.

4 Preheat oven to 450°F (230°C).

5 Season halibut with salt and roast for 10 to 15 minutes or until white juices appear and the fish is cooked.

6 To serve, spoon sauce in the centre of a serving plate, top with halibut and add Cauliflower Rice Pilaf (recipe on p. 250) on the side.


Share