Roasted Chicken with Lavender & Provençal Herbs
Early Summer 2015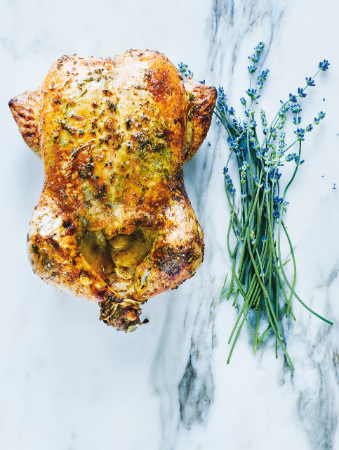 Roasted Chicken with Lavender & Provençal Herbs
Early Summer 2015
BY: Christopher St. Onge
Most of us think of lavender as sweet-scented purple flowers, but few of us appreciate its sweet and savoury culinary uses. When combined with other robust herbs, it makes for a seriously tasty roast chicken to serve alongside a refreshing summer salad. Look for dried lavender in the spice aisle. If you don't have a mortar and pestle, make a paste of the lavender, salt and garlic using the side of a large chef's knife.
1 tsp (5 mL) dried lavender flowers
2 cloves garlic
½ tsp (2 mL) salt
6 tbsp (90 mL) salted butter
½ tsp (2 mL) dried marjoram
2 tsp (10 mL) chopped rosemary
1 tbsp (15 mL) chopped thyme
1 chicken, 4 lbs (2 kg)
1 tbsp (15 mL) honey
½ tsp (2 mL) coarsely ground black pepper
1 Using a mortar and pestle, lightly crush the lavender flowers. Add garlic and salt and work to a paste. Stir in butter, marjoram, rosemary and thyme. Remove half the butter to a small saucepan and set aside.

2 Arrange oven rack to middle position. Preheat oven to 400°F (200°C).

3 Pat chicken dry; lift breast skin at cavity and using the other half of butter mixture, work butter under skin dividing as evenly as possible between breasts and top of legs. Pull skin back towards cavity to enclose. Truss chicken and place on a rack on a roasting tin.

4 Roast for 30 minutes. Meanwhile, add honey and pepper to butter in saucepan. Melt over low heat. Brush chicken with butter mixture. Continue roasting for an additional 35 to 40 minutes, basting with butter mixture twice more, until chicken is cooked through and internal temperature reads 165°F (73°C).

5 Tent with foil and rest for 10 minutes before carving.
Share