Pound Cake with Chocolate, Cherries & Pecans
Holiday 2016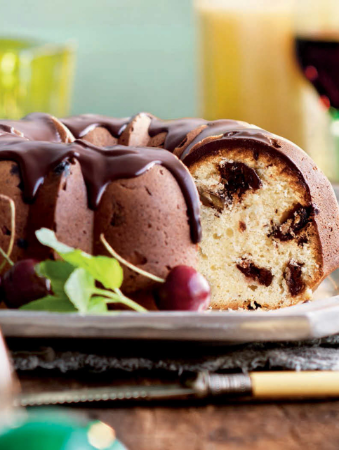 Pound Cake with Chocolate, Cherries & Pecans
Holiday 2016
BY: Marilyn Bentz-Crowley
Banish thoughts of heavy Christmas fruit cakes, as this one is light in both colour and texture. Feel free to play around with the dried fruit, chocolate and nut combination. However, do buy exceptional chocolate such as Callebault or Lindt for best flavour.
CAKE
4 eggs
2 cups (500 mL) sifted cake flour
1½ tsp (7 mL) baking powder
⅔ cup (150 mL) sweetened dried Montmorency cherries
3 oz (90 g) semi-sweet chocolate, chopped, about ⅔ cup (150 mL)
1 cup (250 mL) pecans
¾ cup (175 mL) softened unsalted butter, about 6 oz (175 g)
1¼ cups (310 mL) granulated sugar
1 pkg (250 g) softened cream cheese
1 tsp (5 mL) vanilla
½ tsp (2 mL) salt

CHOCOLATE DRIZZLE
¼ cup (60 mL) 35% whipping cream
3 oz (90 g) semi-sweet or bittersweet chocolate, chopped
1 Preheat oven to 325°F (160°C).

2 Place eggs still in shells in a small bowl; temper by adding hot tap water to cover. When ready to use eggs, drain and discard water. In a large mixing bowl, stir flour well with baking powder; add cherries, chocolate and pecans. Toss and set aside.

3 Preferably using a stand mixer, cream butter for 5 minutes, stopping and scraping down the sides twice, or until lighter in colour and somewhat fluffy. Add sugar in 2 batches, beating after each addition. Beat in cream cheese until fluffy; then beat in vanilla and salt.

4 Add eggs, 1 at a time, beating after each addition. Meanwhile, grease and flour a 10-inch (25-cm) Bundt pan.

5 Fold flour mixture into butter mixture until just incorporated. Evenly turn out batter into pan; smooth top. Bake 70 to 80 minutes or until a cake tester comes out clean. Cool on a rack for 15 minutes, then turn out to continue cooling on the rack.

6 For decorative drizzle, pour cream into a glass measure; add chocolate. Microwave 30 seconds; stir. Microwave another 20 seconds; stir until smooth. Using a spoon, drizzle overtop fully cooled cake. Place cake in a cool location (but not in the fridge); drizzle sets firmly in 2 to 3 hours. Covered, cake keeps well at room temperature for several days.


Makes 1 cake, 20 to 24 pieces
Share