Posh Tuna Melts
Holiday 2014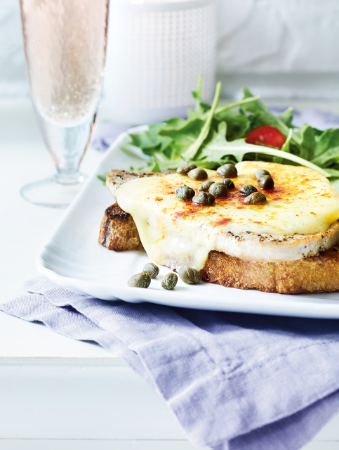 Posh Tuna Melts
Holiday 2014
BY: Julia Aitken
The standby supper of student dorms never tasted this good! Sushi-grade tuna steaks, garlicky butter and bubbly Gruyère cheese take the tuna melt from humble to haute.
1/3 (80 mL) unsalted butter, softened
3 anchovy fillets, drained and minced
1½ tsp (7 mL) finely minced fresh rosemary
1½ tsp (7 mL) finely grated lemon zest
½ tsp (2 mL) minced garlic
Freshly ground black pepper
6 boneless, skinless sushi-grade tuna steaks, each about 4 oz (125 g) and ½ inch (1 cm) thick
2 tbsp (30 mL) olive oil
Kosher salt to taste
6 slices sourdough bread
4 oz (125 g) thinly sliced Gruyère cheese
Rinsed, drained capers and sweet smoked paprika for garnish
1 In a small bowl, stir together butter, anchovies, rosemary, lemon zest, garlic and pepper to taste. Set aside.

2 Pat tuna steaks dry with paper towels. Rub tuna steaks all over with oil. Season on both sides with salt and pepper to taste.

3 Heat a large, heavy skillet over high heat until very hot. Add tuna steaks to skillet and sear for 30 seconds on each side. Remove tuna steaks to a clean plate.

4 Meanwhile, preheat broiler to high and toast bread on both sides. Spread one side of each slice with butter mixture.

5 Arrange toast, butter-side up, on broiler pan. Top each slice with a tuna steak. Top tuna with cheese, dividing evenly.

6 Broil tuna melts 3 inches (8 cm) from element just until cheese melts, 1 to 2 minutes (do not overcook).

7 Divide tuna melts among 6 warm dinner plates. Sprinkle capers over cheese, then dust lightly with paprika.
Share