Peameal Bacon on a Bun
Summer 2011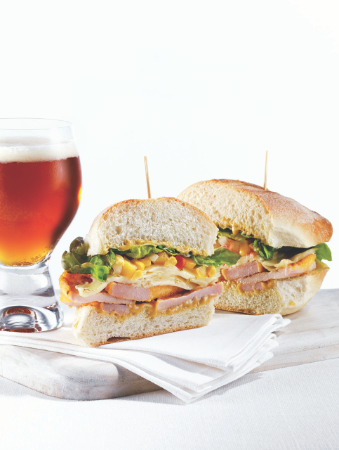 Peameal Bacon on a Bun
Summer 2011
BY: Lucy Waverman & James Chatto
Thunder Oak makes a pepper and jalapeño Gouda that is excellent in this sandwich. St-Albert cheddar from Ontario is also a good choice—St-Albert also makes a jalapeño cheddar that is terrific with the sweeter peameal. If unavailable, a good English cheddar will work. You will need two to four slices of peameal bacon per sandwich depending on how thickly they are cut. Shaving the cheese lets it melt slightly when it hits the hot bacon and roll. Otherwise just cut four slices. Use remaining mustard as a condiment for any grilled meat or poultry.
BOURBON MUSTARD
¼ cup (60 mL) Dijon mustard
1 tbsp (15 mL) bourbon
2 tsp (10 mL) brown sugar

CORN RELISH
1 cup (250 mL) cooked corn
1 cup (250 mL) seeded and chopped tomto
½ cup (125 mL) chopped yellow pepper
½ cup (125 mL) chopped sweet onion
1 tbsp (15 mL) chopped jalapeño pepper
½ tsp (2 mL) brown sugar
1 tbsp (15 mL) cider vinegar
1 tbsp (15 mL) olive oil
Salt and freshly ground pepper

BACON
1 tbsp (15 mL) vegetable oil
8 to 16 slices peameal bacon
1 tbsp (15 mL) Bourbon Mustard

GARNISHES
4 kaiser or other soft white buns, warmed
1½ cups (375 mL) shaved jalapeño Gouda
4 crisp lettuce leaves
1 Combine mustard, bourbon and sugar in a small bowl and stir until uniform. Reserve.

2 Combine corn, tomatoes, peppers, onions and jalapeño peppers in a food processor and process until chunky (or chop together by hand). Stir in sugar, cider vinegar and olive oil and season with salt and pepper to taste.

3 Heat a large nonstick skillet over medium-high heat. Working in batches, add vegetable oil and bacon to pan and cook for 1 minute or until lightly browned. Brush with Bourbon Mustard and turn bacon slices over. Cook 1 to 2 minutes longer or until underside is browned and bacon is cooked through.

4 Spread each bun with Bourbon Mustard. Top with peameal, cheese and Corn Relish. Finish with lettuce. Cut in half before serving.
Share