Orange- & Mint-Rubbed Chicken with Saffron Risotto
Spring 2014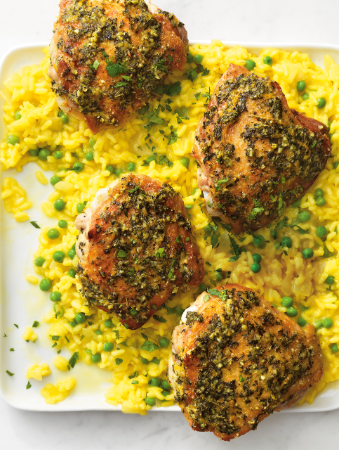 Orange- & Mint-Rubbed Chicken with Saffron Risotto
Spring 2014
BY: Jennifer MacKenzie
The orange-and-mint pesto lends a taste of the exotic and a lovely crust to tender baked chicken. Serve the dish on a bed of risotto delicately flavoured with saffron, and your guests will think you've brought in a chef for the night. Choose breasts or thighs or use a mixture so everyone can choose their favourite cut. A crisp green salad topped with olives and a red wine vinaigrette completes the meal.
CHICKEN
½ cup (125 mL) packed fresh mint leaves
2 tbsp (30 mL) ground almonds
2 tsp (10 mL) grated orange zest
2 tbsp (30 mL) fresh orange juice
1 small clove garlic
2 tbsp (30 mL) olive oil
½ tsp (2 mL) salt
¼ tsp (1 mL) freshly ground pepper
6 skin-on bone-in chicken breasts or 12 thighs(or a mixture)

SAFFRON RISOTTO
4 cups (1 L) unsalted or low-sodium chicken stock
¼ tsp (1 mL) saffron threads
1 tbsp (15 mL) olive oil
1 onion, chopped
3 cloves garlic, minced
Salt and freshly ground pepper
1½ cups (375 mL) arborio rice
½ cup (125 mL) dry white wine
1 cup (250 mL) approx. hot water
1 cup (250 mL) frozen green peas, thawed
½ tsp (2 mL) grated orange zest
Chopped fresh mint and/or parsley
1 For the chicken, preheat oven to 375°F(190°C).

2 Combine mint, almonds, orange zest, orange juice and garlic in a small food processor or a blender. Process until mint is finely chopped. Add 1 tbsp (15 mL) of the oil, salt and pepper and process until fairly smooth.

3 Heat remaining 1 tbsp (15 mL) oil over medium-high heat in a large skillet. Brown chicken pieces, in batches to avoid crowding pan, for 3 to 4 minutes per side. Transfer to a large roasting pan with the skin-side up. Spread mint pesto evenly over chicken pieces.

4 Roast for about 35 minutes or until a meat thermometer in the thickest part of meat reads 170°F (77°C). Tent with foil and let rest for 5 to10 minutes.

5 For the saffron risotto, combine chicken stock and saffron in a saucepan and bring to a boil over high heat. Reduce heat to low, cover pan and keep stock hot.

6 Heat oil in a large pot over medium heat. Sauté onion for about 5 minutes or until starting to soften. Add garlic and ½ tsp (2 mL) each of salt and pepper and sauté for 2 minutes. Add rice and cook, stirring, for 2 minutes or until rice is well coated and starts to sound like glass. Pour in wine and boil, stirring, until almost evaporated. Ladle in about 1 cup (250 mL) of the stock mixture and bring to a simmer, stirring. Reduce heat as necessary to keep the mixture at a low simmer and continue to add stock, ½ cup (125 mL) at a time, stirring often. Each time a ladleful is added, stir until it is absorbed before adding more stock. Simmer, adding stock, and once the stock is all used, add hot water as necessary, for about 30 minutes total until rice is just al dente. Stir in peas and orange zest and simmer, stirring often, for about 3 minutes or until peas are hot. Season to taste with salt and pepper.

7 Spoon risotto into warmed soup plates and top with chicken. Sprinkle with mint and/or parsley.
Share