Olive, Roasted Pepper & Arugula Sandwiches on Rye
Holiday 2010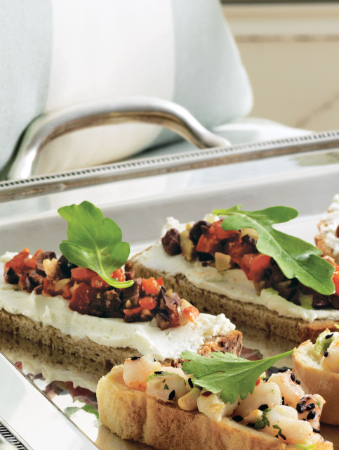 Olive, Roasted Pepper & Arugula Sandwiches on Rye
Holiday 2010
BY: Marilyn Bentz-Crowley
Don't be surprised if this tea sandwich, with familiar ingredients, is popular at the party.And look for fuss-saving already-pitted olives in olive displays.
1 large sweet red pepper, roasted
1/2 cup (125 mL) green olives
1/2 cup (125 mL) black olives, such as Kalamata or Royale
1/2 pkg cream cheese (about), softened
8 slices rye bread such as Rudolph's Landbrot
24 pieces baby arugula or spinach
1 Peel, seed and finely chop pepper so pieces are still visible. (Hint: roasted red peppers mush into purée very swiftly in a food processor, so chop by hand.) Pit olives if needed. Pulse olives in a food processor or chop by hand until finely chopped. Mix olives with peppers; cover and refrigerate for up to 2 days.

2 Spread a layer of cream cheese on each slice of bread. Rye slices are wide so cut crosswise into 3 pieces.

3 Top each piece with 1 tbsp (15 mL) olive mixture; press gently into cream cheese. Garnish with a piece of arugula. Sandwiches hold well for an hour or 2.


Share