Marinated Cherry Tomatoes & Tapenade on Parmesan-Pine Nut Crisps
Holiday 2013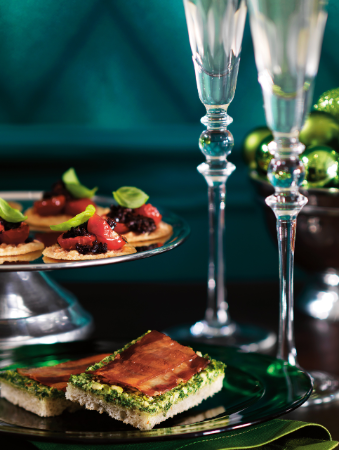 Marinated Cherry Tomatoes & Tapenade on Parmesan-Pine Nut Crisps
Holiday 2013
BY: Christopher St. Onge
Buttery, toasty pine nuts, part of an ethereally light wafer, take centre stage in this deeply flavourful hors d'oeuvre. Topped with jammy marinated cherry tomatoes, this warrants your making extra to tide you over until the guests arrive. You'll need to make the tomatoes a day in advance.
MARINATED CHERRY TOMATOES
24 cherry tomatoes, cut in half
½ tsp (2 mL) sugar
¼ tsp (1 mL) salt
¼ cup (60 mL) extra virgin olive oil
2 cloves garlic, thinly sliced
1 tbsp (15 mL) chopped thyme

TAPENADE
¼ cup (60 mL) Kalamata olives, pitted
¼ cup (60 mL) oil-cured black olives, pitted
6 basil leaves
1 clove garlic
1 anchovy fillet
1 tbsp (15 mL) olive oil

PARMESAN-PINE NUT CRISPS
2/3 cup (150 mL) finely grated Parmigiano-Reggiano
½ cup (125 mL) finely chopped toasted pine nuts
24 small basil leaves to garnish
1 For the marinated cherry tomatoes, preheat oven to 200°F (100°C).

2 Toss cherry tomatoes with sugar and salt. Arrange, cut-side up, on a parchment-lined cookie sheet. Place in oven and cook for 3½¦hours or until somewhat dried and very soft.

3 Meanwhile, heat olive oil in a small saucepan over low heat. Add garlic and cook until softened but not browned, about 4 minutes. Remove from heat and allow to cool. Stir in thyme.

4 Gently place tomatoes in a small glass jar or bowl. Pour oil mixture over, cover and refrigerate for at least 1 day (tomatoes may be prepared up to 3 days in advance).

5 To make tapenade, combine both kinds of olives, basil leaves, garlic, anchovy fillet and olive oil in a food processor. Pulse to a chunky paste. Cover and refrigerate (tapenade may be made up to a week in advance).

6 For the Parmesan-pine nut crisps, preheat oven to 325°F (160°C).

7 Place a 2-inch (5-cm) round cookie cutter 1 inch (2.5 cm) from corners of a parchment-lined cookie sheet. Sprinkle a heaping teaspoon (5 to 6 mL) of Parmigiano cheese into the centre of cutter. Top Parmigiano with 1 tsp (5 mL) chopped pine nuts. Gently lift cookie cutter and place 1 inch (2.5 cm) from first mound of cheese. Once again, fill hollow with a heaping teaspoon (5 to 6 mL) cheese and 1 tsp (5 mL) pine nuts. Repeat with remaining cheese and nuts until you have 24 mounds. Bake for 11 to 12 minutes or until edges are crisp. Allow to cool, remove from parchment and store in an airtight container until ready to serve (crisps may be made up to 3 days in advance).

8 To assemble, top each Parmesan-pine nut crisp with 2 marinated tomato halves, a small spoonful of tapenade, and 1 basil leaf.
Share