Lobster Tarragon Crepes
Holiday 2007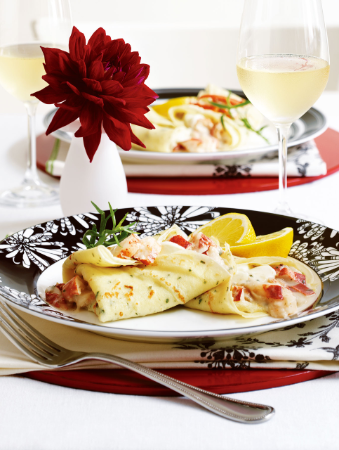 Lobster Tarragon Crepes
Holiday 2007
BY: Jennifer MacKenzie
There are a few steps to preparing these crepes but the decadent results are worth the effort! The crepe batter makes enough for a few extra so don't worry if the first ones aren't perfect. It may take a little practice to get them very thin and even. Crepes made from scratch are wonderful, however, for a shortcut, you can purchase prepared crepes instead. Before assembling, brush the inside of plain crepes with melted butter mixed with tarragon, fill, fold and brush the top to give them a more special flavour. For the filling, you can substitute cooked shrimp or crab for the lobster or even cooked chicken.
Crepes
1 cup (250 mL) all-purpose flour
¼ tsp (1 mL) salt
¼ tsp (1 mL) freshly ground pepper
3 eggs
1 cup (250 mL) milk
3 tbsp (45 mL) butter, melted
1 tbsp (15 mL) chopped fresh tarragon (or ½ tsp/2 mL dried)
Melted butter

Lobster Filling
2 tbsp (25 mL) butter
2 shallots, thinly sliced
¼ tsp (1 mL) salt
Pinch freshly ground pepper
1 tbsp (15 mL) all-purpose flour
1 cup (250 mL) dry white wine
8 oz (250 g) cooked lobster, chopped (about 1½ cups/375 mL)
1 tsp (5 mL) chopped fresh tarragon (or a pinch dried)
4 oz (125 g) drained bocconcini cheese
1. To make crepes, combine flour, salt and pepper in a large bowl. In a measuring cup or another bowl, whisk together eggs and milk until blended. Gradually whisk into flour mixture until very smooth. Whisk in butter and tarragon. Cover and let stand for 30 minutes or refrigerate for up to 1 day. (Bring to room temperature before cooking.) The batter should be the texture of thin cream. Gradually whisk in about 3 tbsp (45 mL) water to thin as necessary.

2. Heat an 8-inch (20-cm) nonstick skillet or crepe pan over medium heat until a drop of batter sizzles when dropped in pan. Wipe out pan and brush lightly with melted butter. Pour in a scant ¼ cup (50 mL) of the batter, swirling the pan while pouring to spread as thinly and evenly as possible. Cook for about 30 seconds or until top is no longer shiny and bottom is just golden. Use a heatproof rubber spatula to loosen edges and flip crepe over. Cook second side for about 10 seconds or just until golden spots start to form.

3. Slide the cooked crepe out onto a parchment-paper-lined plate. Repeat with remaining crepe batter, heating and buttering pan between each as necessary. Cooled crepes can be wrapped and refrigerated for up to 2 days.

4. To make the filling, melt butter over medium heat in a skillet. Add shallots, salt and pepper and cook, stirring, for about 2 minutes or until translucent. Sprinkle with flour and cook, stirring, for 30 seconds (do not let brown). Gradually stir in wine and bring to a boil, stirring constantly. Boil gently, stirring often, for about 3 minutes or until slightly reduced and thickened. Remove from heat and stir in lobster and tarragon. Filling can be cooled, covered and refrigerated for up to 1 day.

5. Preheat the oven to 350°F (180°C).

6. Line a large baking sheet with parchment paper. Pat bocconcini dry and cut into thin slices. Place 1 crepe on a work surface. Spoon one-eighth of the filling along the centre of the half moon and top with one-eighth of the bocconcini slices. Fold over both sides of the crepe to enclose filling and place on prepared baking sheet. Repeat with 7 more crepes and remaining filling (there will be extra crepes left over).

7. Bake for about 8 minutes or just until filling is hot and bocconcini is melted. Serve immediately.
Share