Lobster Bisque
Holiday 2009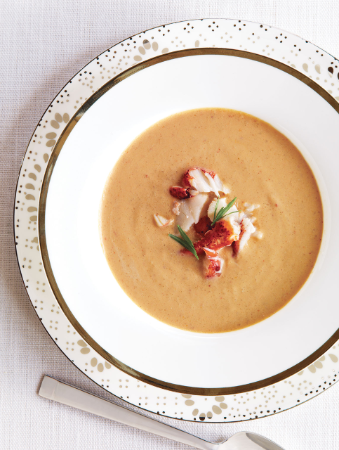 Lobster Bisque
Holiday 2009
BY: Lucy Waverman
This bisque is slightly less rich than traditional ones but has lots of flavour because the stock is reduced. Use all of the lobster bodies except for antennas and eyes. Once you have removed the claw and tail meat see if you can dig out extra meat from the legs and reserve for the soup. Any roe and the green tomalley also gives the soup flavour. You can up the cream to a whole cup, which makes it extremely rich but I prefer the taste of the lobster to come through.
2 tbsp (25 mL) olive oil
Shells of 4 lobsters
1 cup (250 mL) each of roughly chopped onion, carrot and fennel
1 tbsp (15 mL) chopped garlic
1 cup (250 mL) white wine
1 cup (250 mL) chopped fresh or canned tomatoes
4 cups (1 L) fish or chicken stock
4 to 5 tarragon sprigs
4 parsley stems, leaves removed
1 inch (2.5 cm) piece orange rind
Bay leaf
Pinch cayenne
¼ cup (50 mL) basmati rice (raw)
½ cup (125 mL) whipping cream
1. Heat oil in a large stock pot over medium heat. Add lobster shells and sauté, stirring occasionally, for 10 minutes or until bodies are slightly browned. Add onion, carrot and fennel and sauté until softened slightly, about 4 minutes. Add garlic and sauté 1 minute.

2. Pour in wine and bring to boil. Boil for 1 minute or until reduced by half. Add tomatoes, stock, tarragon sprigs, parsley stems, orange rind, bay leaf and cayenne. Add enough water to cover lobster shells. Simmer for1 hour 30 minutes or until full of flavour.

3. Strain stock and discard solids. Place stock in pot on medium heat and reduce slowly until about 8 cups (2 L) remain. Add rice, some of the reserved lobster meat and any roe. Simmer for 30 minutes or until rice is very soft. Place contents of pot in blender and purée until smooth. Add cream and simmer 10 minutes longer. Top with any reserved lobster meat.
Share