Lime Tarragon Tarts with White Chocolate Cream
Spring 2017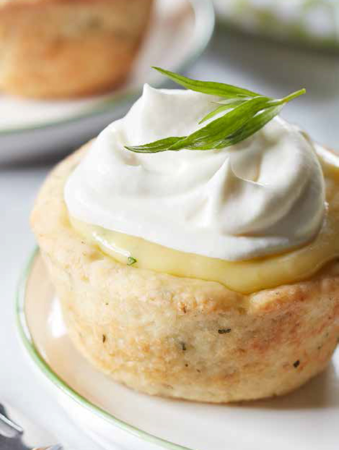 Lime Tarragon Tarts with White Chocolate Cream
Spring 2017
These tarts make a lovely ending to a meal. The pastry is one place where dried tarragon works better than fresh.
PASTRY

1¼ cups (310 mL) all-purpose flour
1 tbsp (15 mL) granulated sugar
1 tsp (5 mL) dried tarragon
½ tsp (2 mL) grated lime rind
½ tsp (2 mL) salt
½ cup (125 mL) cold butter, cubed
1 egg yolk
1 tbsp (15 mL) lime juice

LIME CURD

4 eggs
1/3 cup (80 mL) fresh lime juice
½ cup (125 mL) granulated sugar
2 tsp (10 mL) grated lime zest
½ cup (125 mL) unsalted cold butter, cut in 8 pieces

CHOCOLATE CREAM

1 cup (250 mL) whipping cream
6 oz (175 g) white chocolate
2 tsp (10 mL) chopped fresh tarragon
8 tarragon sprigs
1 Combine flour, sugar, tarragon, lime rind and salt in a food processor. Add in butter and pulse until mixture resembles small peas. Combine egg yolk and lime juice and pulse into pastry until clusters hold together when squeezed. Do not process so much that dough forms a ball.

2 Roll dough out on a floured surface until 1/8 inch (3 mm) thick. Using a 4-inch (10‑cm) cookie cutter, cut out 8 circles. If needed, bring remaining dough back together and re-roll. Fit circles into a standard muffin cup, pressing in corners. Prick the base of each tart and freeze for 30 minutes.

3 Preheat oven to 350°F (180°C) while pastry is chilling.

4 Bake tart shells in the lower third of the oven until pastry is pale gold around the edges, about 15 to 20 minutes. Cool completely.

5 Place eggs in heavy pot. Whisk together with lime juice, sugar and lime zest. Place pot over medium heat and cook, whisking constantly, until sugar is dissolved and mixture is warm, about 2 minutes. Slowly whisk in cold butter. Continue to cook, stirring with a wooden spoon or spatula rather than whisking, until mixture thickens and you can see the bottom of the pot when you draw a spoon across, about 8 to 10 minutes. The mixture should coat the back of a spoon. Do not allow to boil otherwise it will curdle. The mixture will thicken more as it cools.

6 Transfer curd to a bowl and place a sheet of plastic wrap directly over mixture to prevent a skin forming. Poke a few holes in the plastic to allow steam to escape. Refrigerate until cold, about 2 hours. Fill tart shells with the lime curd, up to 12 hours in advance.

7 Bring cream to a simmer. Remove from heat and stir in white chocolate until smooth. Cool completely in the refrigerator, about 1 hour. Remove from refrigerator and whisk until mixture is thickened and soft peaks form, about 3 minutes. Gently fold in chopped tarragon. Top the tarts with 1 to 2 tbsp (15 to 30 mL) cream and garnish with tarragon sprigs.
Share