Lentil Salad with Grilled Kielbasa
Autumn 2007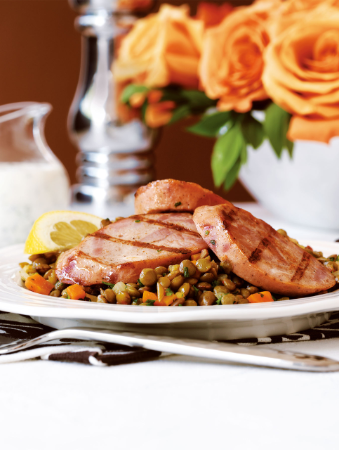 Lentil Salad with Grilled Kielbasa
Autumn 2007
BY: Lucy Waverman
As well as being a wonderful appetizer, this simple salad-and-sausage combination makes for a great lunch dish. It can also be prepared with grilled quail or other small game birds in place of the kielbasa. Try lentils du Puy, the small French lentils, though regular green lentils are fine too.
1 cup (250 mL) green lentils
¼ cup (50 mL) olive oil
1 medium carrot, finely diced
2 shallots, finely diced
1 clove garlic, crushed and finely diced
1 tomato, finely diced
2 tsp (10 mL) white wine vinegar
¼ cup (50 mL) chopped parsley
Salt and freshly ground pepper to taste
1 piece of kielbasa, about 4½ to 5-inches (11 to 12-cm) long
½ cup (125 mL) yogurt
3 tbsp (45 mL) lemon juice
1 tbsp (15 mL) mint, chopped
1. Put lentils in a pot with cold water to cover. Bring to a boil, skimming off any foam that develops along the way. Reduce heat to simmer and cook for 15 to 20 minutes or until lentils are tender. Drain, transfer to a large bowl and set aside.

2. Add 2 tbsp (25 mL) olive oil and carrot, shallots and garlic to a frying pan over medium heat. Cook for 2 minutes or until tender, remove pan from heat and add tomatoes, the remaining olive oil, vinegar, parsley and salt and pepper to taste. Add mixture to the lentils and set aside.

3. Slice the kielbasa on the bias into 18 slices. On the grill or in the oven at medium heat, warm the slices of kielbasa until each is heated through and, if grilling, faintly charred.

4. Mix together the yogurt, lemon juice and mint in a small bowl.

5. Serve a small mound of lentils on each plate and top with 3 slices of kielbasa. Drizzle with yogurt dressing and serve.
Share