Halwa Meets Sticky Pudding
Holiday 2012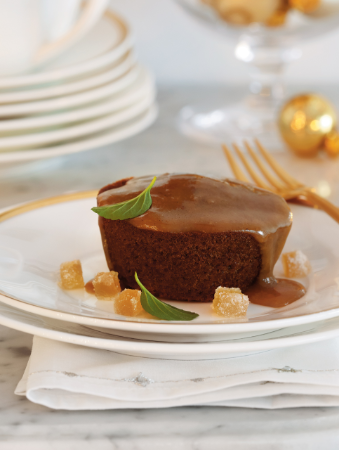 Halwa Meets Sticky Pudding
Holiday 2012
BY: Victoria Walsh
Classic sticky pudding with a twist! A creamy Indian carrot pudding called halwa inspired the addition of carrots, raisins and cardamom to this recipe. It's a modern version of a holiday favourite that's sure to convert even the most die-hard traditional sticky-pudding lover. Puddings can also be made ahead and frozen for up to 2 weeks.
PUDDINGS
1 1/3 cups (330 mL) finely chopped dates,
about ½ of a 375-g pkg
1 cup (250 mL) finely grated carrot, about 1 carrot, peeled
½ cup (125 mL) golden raisins
¼ cup (60 mL) finely chopped candied ginger, about 6 pieces
1 cup (250 mL) water
1 tsp (5 mL) baking soda
1 cup (250 mL) all-purpose flour
1 tsp (5 mL) baking powder
¾ cup (175 mL) unsalted butter, at room temperature
¾ cup (175 mL) lightly packed brown sugar
2 eggs

CARDAMOM STICKY SAUCE
¼ cup (60 mL) unsalted butter
½ cup (125 mL) lightly packed brown sugar
1/3 cup (80 mL) whipping cream
½ tsp (2 mL) ground cardamom

OPTIONAL GARNISH
Diced candied ginger
Fresh mint leaves
1 Preheat oven to 350°F (180°C).

2 In a medium saucepan, stir dates with carrot, raisins and ginger. Stir in water. Heat over medium, stirring occasionally, for 6 minutes. Remove from heat. Stir in baking soda. Let stand while preparing recipe.

3 Grease a 12-cup muffin tin. Stir flour with baking powder.

4 In a medium bowl, beat butter with sugar. Whisk in eggs. Stir in flour mixture. Stir in carrot-date mixture. Divide and spoon into muffin cups. Bake in centre of preheated oven for 20 minutes or until a skewer inserted into the centre of pudding comes out clean or with crumbs clinging to it. Remove to a rack. When cool enough to handle, gently run a knife around edge of each one.

5 Meanwhile, prepare sticky sauce. Place butter in a small saucepan. Set over medium-low heat. Stir in brown sugar. Stir occasionally for 5 minutes or until melted and evenly mixed. Slowly pour in cream, while stirring often. Sprinkle cardamom overtop. Cook for5 more minutes or until evenly mixed and slightly thickened. Serve puddings drizzled with sticky sauce and garnish, if desired.
Serves 12 with 1/3 cup (80 mL) sauce
Share