Halibut with Pink Grapefruit, Spring Radishes, Mint & Black Olive Salsa
Spring 2014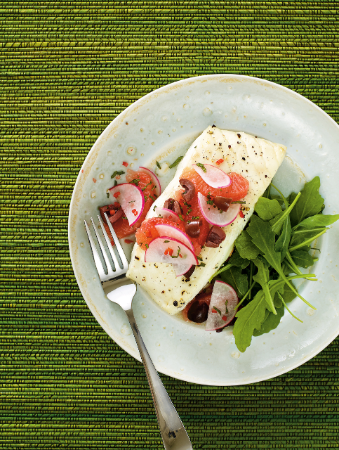 Halibut with Pink Grapefruit, Spring Radishes, Mint & Black Olive Salsa
Spring 2014
BY: Heather Trim
Spring cooking usually means lighter, fresher fare. Often forgotten, seasonal radishes add a crispy bite that contrasts nicely with the sweet tang of the grapefruit and saltiness of the olives. Be sure to taste the chili, as chili peppers vary widely in heat and you don't want to overpower the fish.
4 pieces, each 6 oz (175 g) halibut
Pinches of salt and pepper
4 sprigs fresh thyme (optional)
1 pink grapefruit
1 small radish
2 tbsp (30 mL) chopped fresh mint
4 black pitted kalamata olives, quartered
½ to 1½ tsp (2 to 7 mL) finely minced fresh hot red pepper
1 Preheat oven to 400°F (200°C). Line a baking sheet with parchment paper.

2 Sprinkle fish with salt and pepper. Place on prepared baking sheet. Lay a sprig of thyme over each piece. Roast until opaque and fish flakes, 13 to 15 minutes.

3 Meanwhile, prepare salsa. Peel and segment grapefruit over a bowl to catch juices. Thinly slice radish, then cut slices in half. Add to bowl along with mint and olives. Taste your chili and add accordingly to taste.

4 Discard thyme. Serve fish with salsa spooned overtop.
Share