Grilled Lamb Skewers on Flatbread with Dandelion Greens Pesto
Spring 2013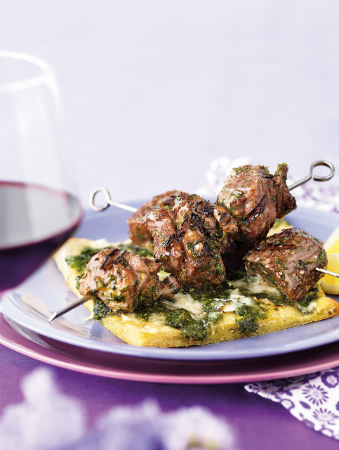 Grilled Lamb Skewers on Flatbread with Dandelion Greens Pesto
Spring 2013
BY: Lucy Waverman
This dish is inspired by a dish I had in Rome where lamb and salty cheeses such as Pecorino Romano are so popular. It's easy to make and succulent to eat. Serve with a salad tossed with sliced red onions and roasted whole cherry tomatoes, if desired.
2 lbs (1 kg) boneless lamb leg
2 tbsp (30 mL) olive oil
¼ cup (60 mL) chopped parsley
1 tbsp (15 mL) chopped fresh rosemary
1 tsp (5 mL) chopped garlic
1 tsp (5 mL) grated lemon rind
Salt
Flatbread with Dandelion Greens Pesto (recipe follows)


1 Cut lamb into 2-inch (5-cm) cubes. Combine olive oil, parsley, rosemary, garlic and lemon rind in a bowl. Toss with lamb cubes. Let marinate for 30 minutes. Soak 8 wooden skewers in water for 30 minutes.

2 Preheat grill to high.

3 Salt lamb and thread on to skewers leaving some space between each cube. Each skewer will have about 3 pieces on it. Grill about 2 minutes per side (8 minutes in total) or until lamb is medium-rare. Adjust cooking time if you like it less pink.

4 Cut flatbread into 4 slices and top with 2 skewers.
Flatbread with Dandelion Greens Pesto

I used a flatbread that was about 9 x 12 inches (23 x 30 cm). If dandelion greens are unavailable, replace with arugula (which does not have quite the same punch but is good nevertheless).

4 cups (1 L) packed dandelion greens, stems removed
¼ cup (60 mL) packed flat leaf parsley
1 tsp (5 mL) chopped garlic
¾ cup (175 mL) shaved Pecorino Romano
⅓ cup (80 mL) olive oil
Salt and freshly ground pepper
1 large flatbread
1 Preheat oven to 400°F (200°C).

2 Combine dandelion greens, parsley, garlic and ½ cup (125 mL) Pecorino in food processor and process until still slightly chunky. Stir in olive oil and season with salt and pepper to taste. Spoon pesto over flatbread, scatter over remaining Pecorino, and bake for 10 minutes or until bread is hot.
Share