Green Beans with Browned Butter and Pine Nuts
Spring 2009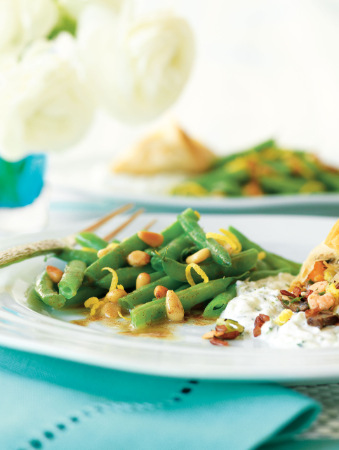 Green Beans with Browned Butter and Pine Nuts
Spring 2009
BY: Marilyn Bentz-Crowley
Plump and brightly coloured green beans only need a trim at the stem end.
1 to 11⁄2 lbs (500 to 750 g) green beans
2 tbsp (25 mL) butter
1 clove garlic
1⁄4 cup (50 mL) pine nuts
1⁄4 cup (50 mL) water
1⁄4 tsp (1 mL) salt
Several grindings of black pepper
1 small lemon
1. Cut off stem end of bean leaving thin point intact. Diagonally slice into pieces about an inch (2.5 cm) long.

2. Heat butter in a large frying pan over medium heat until hot. Meanwhile, crush garlic clove with the side of a chef's knife; do not mince. Add to butter. Cook until garlic is browned and butter is bubbly and browning.

3. Add pine nuts; stir frequently for 30 seconds. Add water and beans. Cover and stir occasionally for 5 to 7 minutes or until hot, tender and most of water is evaporated. Toss with salt and pepper. Remove and discard garlic clove.

4. Turn into a warmed serving dish. Using a zesting tool or rasp, scatter lemon zest over top of beans. Serve right away.
Share