Garlic Roasted Cauliflower
Winter 2012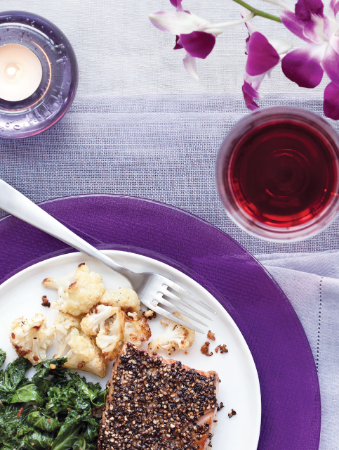 Garlic Roasted Cauliflower
Winter 2012
BY: Leslie Beck, RD
If you're looking for a new way to cook cauliflower, look no further. Roasting the cauliflower gives it a delicious nutty flavour and crispy texture. I like to use plenty of freshly ground black pepper to give the cauliflower extra spice.
1 medium cauliflower, cut into bite-size pieces (about 4 cups/1 L)
1 tbsp (15 mL) canola oil
1 clove garlic, crushed
¼ tsp (1 mL) coarse sea salt
Freshly ground black pepper to taste
1 Preheat oven to 375°F (190°C).

2 In a large bowl, toss cauliflower, oil, garlic, salt and pepper.

3 Spread cauliflower mixture on a baking sheet. Bake for 25 to 30 minutes or until edges begin to brown and the cauliflower is tendercrisp when pierced with a fork.


Per serving: 68 cal, 3 g protein, 4 g total fat (1 g saturated fat), 8 g carbohydrates, 3 g fibre,0 mg cholesterol, 190 mg sodium

Leslie Beck's Healthy Kitchen © Leslie Beck, 2012. Reprinted by permission from Penguin Group (Canada), a division of Pearson Canada Inc.
Share