Frozen Mango Lassi
Winter 2011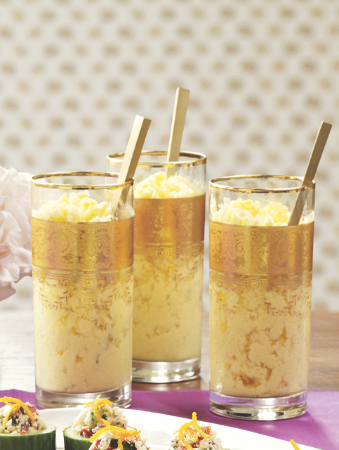 Frozen Mango Lassi
Winter 2011
BY: Monda Rosenberg
Lassis are not only a popular drink in India but undoubtedly the top-rated one in Canadian - Indian restaurants. A blend of yogurt with a sweet or salty flavouring, they have a bracingly tart and distinctively aromatic taste that is perfect with any hot dish. So we've upped the refreshing quotient here by freezing a luscious blend of mango puree and natural yogurt. Serve in your prettiest glasses and bring out elegant long-handled spoons for guests to slowly savour.
2 large very ripe mangoes
2 cups (500 mL) natural yogurt (6% b.f.)
Generous pinch of salt
1. Peel mangoes and cut pulp from the stones. Pulse pulp in a food processor fitted with a metal blade until pureed. Add yogurt and a generous pinch of salt. Whirl until blended. Pour into a shallow-sided freezer safe dish such as an 8-inch (20-cm) square. Cover with a lid, plastic wrap or foil. Place in the freezer until firm to the touch. This will take at least 4 hours or you can leave as long as a week.

2. For a granita texture, remove the dish from the freezer anytime after it has firmed up. Leave at room temperature until you are able to scrape a wide metal spoon across the top of the frozen lassi. Transfer this airy mixture to a bowl or freezer container. Continue until all is scraped up. Either serve right away or cover the bowl and return to the freezer for up to a day. To make it easy to spoon out, let this dish sit at room temperature for 10 to 15 minutes.
Share