Dressed Up Shortbreads
Holiday 2006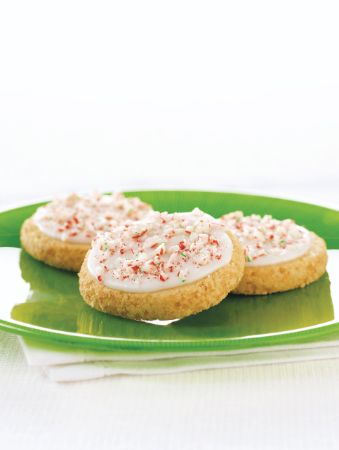 Dressed Up Shortbreads
Holiday 2006
BY: Heather Trim
Dress up store-bought shortbread (with chocolate, lemon and candy cane) this year and don't say a word.
½ cup (125 mL) icing sugar
2 to 4 tsp (10 to 20 mL) lemon or lime juice
1 tsp (5 mL) lemon or lime peel
2 oz (60 g) bittersweet or milk or white chocolate, chopped
2 to 3 tsp (10 to 15 mL) butter
2 dozen store-bought shortbread cookies, preferably different shapes
2 tbsp (25 mL) finely chopped candy cane
Tiny dice candied ginger (optional)
1. In a small bowl, stir half the icing sugar with just enough water to make a glaze that you can drizzle from a fork or slightly thicker if you are spreading it. In a separate small bowl, stir remaining icing sugar with lemon juice and peel to make a glaze. In a small bowl, on medium, microwave chocolate with butter until nearly melted, 45 to 60 seconds. Stir to completely melt.

2. Drizzle 8 shortbread with plain icing sugar mixture, then sprinkle candy cane over icing. Drizzle 8 shortbread with citrus peel icing sugar mixture or lightly spread over cookies. Garnish with candied ginger if desired. Drizzle remaining shortbread with chocolate mixture or dip half of each shortbread with chocolate. Sprinkle with candy cane if desired. Place cookies on rack to set.
Share