Dark Chocolate Pie with Tart Cherries
Summer 2009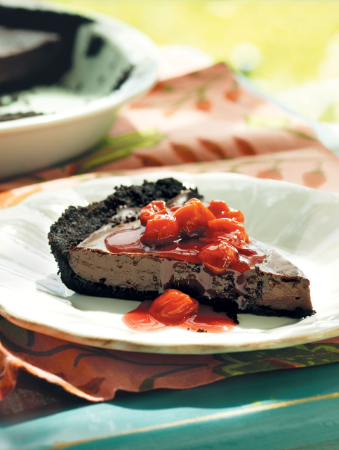 Dark Chocolate Pie with Tart Cherries
Summer 2009
BY: Marilyn Bentz-Crowley
This is not a sophisticated chocolate tart, but an old-fashioned pie, filled with homemadepudding—albeit an au courant version using two forms of chocolate. Pitted and lightly sugared tart red cherries can be purchased in pails around mid-July. Measure extra cherries for pies or sauce into freezer bags (including juice) and freeze for up to a year!
Crust
1 1⁄3 cups (325 mL) chocolate wafer crumbs
2 tbsp (25 mL) melted butter
2 tbsp (25 mL) canola or other vegetable oil

Filling
1⁄2 cup (125 mL) granulated sugar
1⁄3 cup (75 mL) cocoa (unsweetened)
1⁄3 cup (75 mL) cornstarch
1⁄4 tsp (1 mL) salt
1 1⁄2 cups (375 mL) milk
1⁄2 cup (125 mL) whipping cream
4 oz (125 g) semi-sweet or bittersweet chocolate, chopped
1 tsp (5 mL) pure vanilla extract

Topping
3 cups (750 mL) pitted tart cherries, including juice (see TIP) 3⁄4 cup (175 mL) granulated sugar
2 tbsp (25 mL) cornstarch
1 tsp (5 mL) vanilla
1. Preheat oven to 375°F (190°C). Stir crumbs with butter and oil until moistened.Evenly press into bottom and up sides of 9-inch (23-cm) pie plate.Bake in oven centre for 8 minutes; cool on a rack.

2. In a large saucepan, stir sugar with cocoa, cornstarch and salt. Whisk in some of the milk; continue whisking until most lumps are gone. Whisk in remaining milk and cream. Cook over medium heat for 8 to 10 minutes, stirring frequently, or until mixture thickens and bubbles. Do not briskly boil; remove from heat.

3. Stir in chocolate and vanilla until smooth. Press plastic wrap directly onto surface of filling; cool until still very warm, but not hot.

4. Turn warm filling into cooled shell; smooth top. Place plastic wrap directly on surface of filling; press to distribute filling evenly in crust. Refrigerate for4 hours. (Pie keeps well for longer, however, crust softens with time.)

5. To make topping, drain cherries, saving juice. Measure 1 cup (250 mL) juice into a large saucepan. If not enough juice, bring up to measure with water.Add sugar mixed with cornstarch; stir well. Stir in cherries.

6. Bring to a boil over medium heat, stirring frequently especially as mixture begins to steam. Let bubble 1 to 2 minutes; then stir in vanilla. Cool, cover and refrigerate for 2 hours or until chilled.

7. When ready to serve, cut pie into small wedges. Top each wedge with a spoonful or 2 of cherries.

TIP: Tart red cooking cherries have more flavour than dark-red eating cherries. However if that is what's available, use dark cherries. After pitting dark cherries, cut in half. Reduce sugar to 1⁄2 cup (125 mL) for topping, and add 2 to 3 tsp (10 to15 mL) freshly squeezed lemon juice.
Share