Coriander Crusted Tuna Loin with Pappardelle, Spinach and Cilantro Vinaigrette
Spring 2005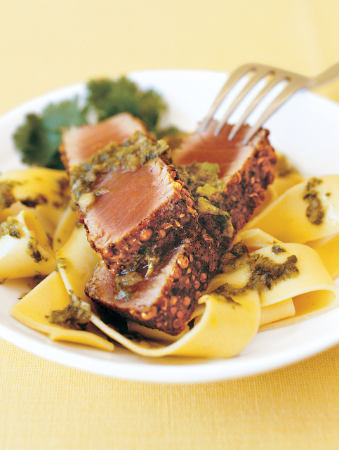 Coriander Crusted Tuna Loin with Pappardelle, Spinach and Cilantro Vinaigrette
Spring 2005
BY: Lucy Waverman
You will need a solid piece of tuna (like a little fillet roast) to prepare this recipe. It should be about 6-inches (15-cm) in length and about 1lb (500 g) in weight. Substitute dry pasta if fresh is unavailable.
2 tbsp (25 mL) coriander seeds
1 tsp (5 mL) black peppercorns
1 lb (500 g) sushi grade tuna
Salt to taste
2 tbsp (25 mL) vegetable oil for frying
4 oz (125 g) fresh pappardelle
Cilantro Vinaigrette (recipe follows)
1. Preheat oven to 400ºF (200ºC).

2. Toast coriander and peppercorns in dry skillet over medium heat. Crush in a mortar and pestle or spice grinder until coarsely ground.

3. Season tuna with salt. Roll the tuna in the peppercorn mixture, pressing lightly as you roll, coating all sides.

4. Heat a nonstick skillet over medium-high heat and add vegetable oil. Add tuna to the pan and cook each side for approximately 40 seconds, or until a light brown crust forms. Place the tuna in the oven for 3 to 4 minutes or until very rare.

5. Remove from oven and slice into 8 equal slices across the loin.

6. While tuna is cooking, bring a large pot of salted water to boil. Add pappardelle and cook 3 minutes, or until al dente. (If it is dried, cook according to package directions).

7. Place 2 pieces per plate on top of the cooked pappardelle. Drizzle with a little Cilantro Vinaigrette and serve immediately.

Cilantro Vinaigrette
1 cup (250 mL) fresh cilantro leaves, including tender stems
¼ cup (50 mL) mint leaves, packed
½ tsp (2 mL) chili flakes
2 tbsp (25 mL) shallots, finely chopped
1 tbsp (15 mL) ginger, finely grated
1 tsp (5 mL) garlic, finely diced
4 tsp (20 mL) lemon zest
½ cup (125 mL) olive oil
¼ cup (50 mL) lemon juice
1 tbsp (15 mL) white wine vinegar
Salt to taste
1. Add cilantro, mint, chili flakes, shallots, ginger, garlic and lemon zest into a food processor. Pulse into a smooth paste. Transfer paste to a bowl and whisk in the olive oil, lemon juice and vinegar. Season with salt.
Share