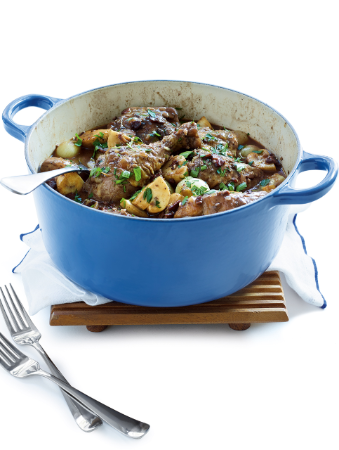 BY: Jennifer MacKenzie
Based on one of Julia Child's signature dishes, this version streamlines the cooking technique so you only use one or two pots or pans (versus three or four) and an easy oven-simmer. Be sure to start with the best quality ingredients—an air-chilled, free-range capon or large chicken, real smoked bacon from the smokehouse or butcher, unsalted chicken stock and the freshest of vegetables—to replicate how it would be made in the French countryside. A four-quart (or larger), cast-iron Dutch oven or French oven (with or without an enamel coating) is the traditional pot to use as it allows you to cook on top of the stove and finish in the oven but, if you don't have one, you can use a skillet then transfer everything to a large, deep casserole dish with a lid or use another ovenproof pot. The flavours do well when made ahead so you can cool, cover and refrigerate the finished dish for up to two days, then reheat on the stovetop to serve. Serve with boiled potatoes to mash and soak up the sauce or tender, wide noodles and haricot verts on the side.
1 capon or chicken, 5 lbs (2.2 kg)—see TIP
¼ cup (60 mL) butter
6 strips bacon, chopped
Salt and freshly ground pepper
24 pearl onions, blanched and peeled
1 small onion, finely chopped
3 cloves garlic, minced
¼ tsp (1 mL) dried thyme (or 1 sprig fresh)
2 tbsp (30 mL) Cognac or brandy
2 cups (500 mL) C'est La Vie! Pinot Noir Syrah
1 cup (250 mL) unsalted chicken stock
2 tbsp (30 mL) tomato paste
1 bay leaf
1 tbsp (15 mL) olive oil
8 oz (250 g) large mushrooms, quartered
2 tbsp (30 mL) all-purpose flour
Chopped fresh parsley, for garnish
1 Place poultry, breast-side down, on a large cutting board with the neck farthest away from you. Using a sharp knife or kitchen shears, cut along the right side of the backbone, starting at the tail and working up to the neck. Repeat on the left side to remove the entire backbone (reserve for stock or discard). Cut leg-quarters from body and cut at the joint into thighs and drumsticks. Cut wings from body. Flip breast over so bone is facing up, and cut along the breast bone into2 halves. Cut each breast on a slight diagonal into 2 pieces. Set chicken aside.

2 Preheat oven to 350°F (180°C).

3 If using a casserole dish, fill with about 2 inches (5 cm) of water and place in oven to warm.

4 Melt 1 tbsp (15 mL) butter in an ovenproof Dutch or French oven, or a large skillet (if using a casserole dish later in oven) over medium-high heat. Cook bacon until crisp. Use a slotted spoon to transfer bacon to a bowl and set aside. Drain off all but 1 tbsp (15 mL) fat from pot, reserving excess fat.

5 Lightly sprinkle chicken pieces with salt and pepper, and brown, in batches of 2 or 3 pieces at a time, turning once, until nicely golden. Place a splatter screen or perforated pizza pan overtop to reduce splattering. Transfer to a bowl. Adjust heat between batches as necessary to prevent burning. If a lot of fat renders from chicken, spoon off enough to leave only a thin layer of fat in pot. Set browned chicken aside. Pour off any rendered chicken fat from pot and discard.

6 Reduce heat to medium-low and add about 1 tbsp (15 mL) bacon fat to pot. Add pearl onions and sauté for about 3 minutes or until starting to brown. Transfer to a bowl.

7 Add just enough remaining bacon fat to the pan to coat in a thin layer (discard any remaining bacon fat). Add chopped onion, garlic, thyme, a pinch of salt and ½ tsp (2 mL) pepper and sauté for about 5 minutes or until soft and golden.

8 Add Cognac to pot and boil, stirring, until evaporated. Pour in wine and bring to a boil, scraping up any bits on bottom. Stir in chicken stock, tomato paste and bay leaf and return to the boil. Boil for 5 minutes. Stir in reserved bacon.

9 Add chicken thighs, drumsticks and wings with any accumulated juices to pot, turning to coat with sauce. Stir in pearl onions. (If using the casserole dish, empty water from warm dish and arrange chicken thighs, drumsticks, wings and pearl onions in casserole dish. Stir any accumulated juices into the sauce and pour over chicken in dish). Set breast pieces aside.

10 Cover pot or casserole dish and bake in oven for 10 minutes. Add breast pieces to pot or casserole dish and nestle into sauce, spooning sauce on top. Cover and bake for 30 to 40 minutes, turning chicken pieces over halfway, or until chicken is tender and juices run clear.

11 Meanwhile, heat 1 tbsp (15 mL) of the butter and the oil in a large skillet over medium-high heat. Sauté mushrooms for about 5 minutes or until golden brown. Set aside.

12 Once chicken is cooked, use a slotted spoon to transfer chicken pieces to a warmed, deep platter. Place pot of sauce (or pour sauce from casserole back into the skillet or a large saucepan) over medium-high heat on the stovetop and bring to a boil. Mash remaining 2 tbsp (30 mL) butter and flour in a small bowl to make a paste. Whisk into sauce until blended. Boil, stirring often, for about 10 minutes or until sauce is thickened. Discard bay leaf. Check seasoning. Pour sauce over chicken on platter, or return chicken to pot or casserole and baste with sauce, and add mushrooms. Sprinkle with parsley.

TIP If you can't find a large chicken, or prefer to use pieces, use 4½ lbs (2.25 kg) of a mixture of drumsticks, thighs and breasts, or all of one cut. Cut breasts in half as directed in the recipe. If using all breasts, add to the pot with the sauce and onions and reduce total baking time to 30 to 40 minutes.
Share