Cod In Coconut Broth with Kaffir Lime Leaves
Summer 2015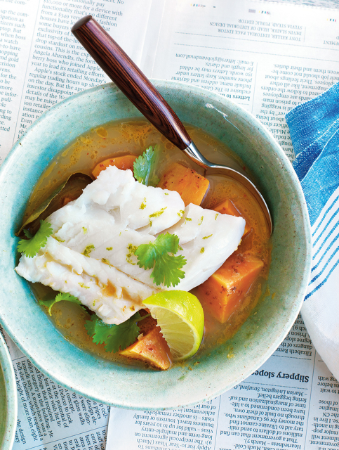 Cod In Coconut Broth with Kaffir Lime Leaves
Summer 2015
BY: Tonia Wilson-Vuksanovic
This is a fragrant dish with soothing flavours and textures—simple enough to be comfort food, yet sophisticated enough to be part of a dinner menu. A beer dinner menu, perhaps?
3 cups (750 mL) vegetable, fish or chicken stock
4 fresh kaffir lime leaves (available at most well‑stocked Asian grocery stores; dried version will also do)
3 tsp (15 mL) red curry paste, or more to taste
¼ tsp (1 mL) salt
¾ cup (175 mL) coconut milk
2½ cups (625 mL) sweet potato, peeled and diced into ½ inch (1 cm) cubes
4 pieces (each 5 oz/150 g) cod fillet, skinless
Zest of 1 lime, finely grated on a rasp
½ cup (125 mL) fresh cilantro leaves, stems removed
Lime wedges for garnish
1 In a large pot, bring the stock, lime leaves, red curry paste, salt and coconut milk to a boil over high heat. Add sweet potatoes, lower heat and simmer until sweet potatoes are tender, about 10 minutes.

2 Heat the broiler on high, place cod pieces on a parchment-lined baking sheet and season the fish with salt and the lime zest.

3 Place tray in the top third of the oven and broil until the cod is cooked through, about 5 to 7 minutes based on thickness.

4 Divide the sweet potatoes and broth between 4 bowls and sprinkle with cilantro. Place a piece of fish on top of each and garnish with lime wedges.
Share