Chorizo & Bacon-Stuffed Tomatoes
Autumn 2016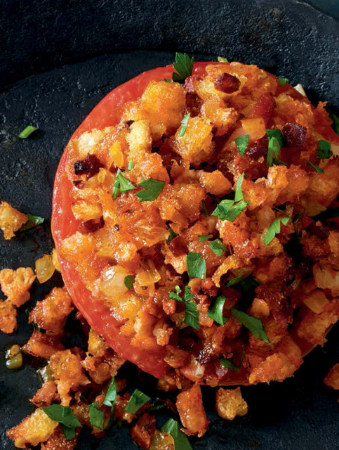 Chorizo & Bacon-Stuffed Tomatoes
Autumn 2016
BY: Christopher St. Onge
Use firm-fleshed field tomatoes such as beefsteak or Brandywine for these delicious stuffed tomatoes. Seek out good quality cured, ready-to-eat Spanish chorizo here—it and the marjoram are undoubtedly the stars of the show. They're spectacular beside eggs and are sure to become a Sunday brunch favourite. Chop up day-old bread for the crumbs and be sure to leave some visible chunks.
3 large ripe field tomatoes, each about 12 oz (375 g)
Salt and freshly ground black pepper
2 tbsp (30 mL) plus ¼ cup (60 mL) olive oil, divided
1 small onion, finely diced
2 oz (60 g) finely chopped hot Spanish chorizo
1 slice thick-cut smoked bacon, finely chopped
2 tsp (10 mL) dried marjoram
1 tsp (5 mL) smoked paprika
3 cups (750 mL) coarse fresh bread crumbs
1 Cut each tomato in half horizontally. Using a pairing knife, cut around the inside wall of each tomato to loosen ribs and seeds. Use a soup spoon or tablespoon to scrape out interiors over a bowl, being careful to leave outer walls intact. Arrange tomatoes cut-side up in an oiled 9 x 13-inch (23 x 33-cm) baking dish and season insides with salt and pepper.

2 Measure out 1 cup (250 mL) of tomato pulp and finely chop; set aside. Discard remaining pulp or reserve for another use.

3 Preheat oven to 375°F (190°C).

4 Heat 2 tbsp (30 mL) oil in a large skillet, add onion and cook for 3 minutes or until translucent. Stir in chorizo and bacon, cook an additional 3 minutes or until beginning to crisp; add tomato pulp, marjoram and smoked paprika. Bring to a simmer and cook for 4 minutes or until slightly thickened; season with salt and pepper to taste and scrape into a heatproof bowl.

5 Wipe skillet out and return to the heat. Pour in remaining ¼ cup (60 mL) olive oil in and, once hot, add bread crumbs and stir to coat. Cook until bread is golden, stirring often, about 4 minutes. Pour chorizo mixture over and combine.

6 Divide mixture between tomato halves and bake for 30 to 35 minutes or until tomatoes are tender and top of filling is crisp.
Share