Chocolate Layer Cake with Maple-Pecan Frosting
Winter 2015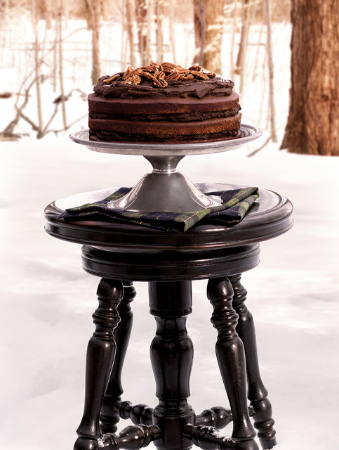 Chocolate Layer Cake with Maple-Pecan Frosting
Winter 2015
BY: Victoria Walsh
Chocolate cake benefits from maple-infused chocolatey frosting. The bonus, the frosting is a breeze to put together. For a richer cake, simply double the frosting recipe to mask the whole cake, layers, top and sides too. Cake tastes best the day it's made. If made ahead, cake will keep well, covered with a cake dome, for 2 to 3 days.
Butter for greasing pans
Cocoa for dusting
3½ oz (105 g) pecan halves

CHOCOLATE CAKE
2½ cups (625 mL) all-purpose flour
⅔ cup (150 mL) cocoa powder
1½ tsp (7 mL) baking powder
¾ tsp (4 mL) salt
½ tsp (2 mL) baking soda
1 cup (250 mL) unsalted butter, at room temperature but still slightly cool
2 cups (500 mL) granulated sugar
3 eggs, at room temperature
1 tbsp (15 mL) vanilla
1 cup (250 mL) buttermilk
½ cup (125 mL) strong-brewed coffee, cooled

MAPLE-PECAN FROSTING
3 cups (750 mL) icing sugar
1 cup (250 mL) cocoa powder
¾ cup (175 mL) unsalted butter, at room temperature
½ cup (125 mL) + 2 tbsp (30 mL) maple syrup
1 tsp (5 mL) maple extract
1 Preheat oven to 350°F (180°C).

2 Grease three 9-inch (23-cm) round cake or springform pans with butter. Line with parchment paper. Lightly dust with cocoa. Spread pecans out over a baking sheet. Bake for 5 minutes until toasted. Set aside and let cool.

3 To prepare cake, sift flour, cocoa, baking powder, salt and baking soda into a large bowl. Using a whisk, mix. Place butter in bowl  of stand mixer. Using whisk attachment, beat over low speed until fluffy. Slowly beat in sugar. Beat in eggs 1 at a time. Beat in vanilla. Gradually beat in one third flour mixture, then half of buttermilk and half of coffee. Repeat additions, ending with flour mixture until blended after each addition. Don't worry if mixture separates a little; it will come back together with the final addition of flour. Be careful not to over mix.

4 Divide and pour into prepared cake pans. Using a small palette knife, smooth tops, spreading to edge of pans.

5 Bake in centre of preheated oven for 22 to 24 minutes until a cake tester inserted into centre of each cake comes out clean. Remove to cooling racks. Let cool for 10 minutes, then turn out onto cooling racks. Let cool completely.

6 Meanwhile, prepare frosting by sifting icing sugar and cocoa into a bowl. Place both in a food processor along with butter, 1/2 cup (125 mL) maple syrup and extract. Whirl until evenly mixed and smooth. Whirl in ¼ cup (60 mL) cooled, toasted pecans.

7 When cakes are completely cool, set 1 layer on a cake plate or serving dish. Dollop with 1 cup (250 mL) frosting. Spread to edges. Repeat with remaining cakes and frosting. Sprinkle with remaining pecans. Drizzle with remaining 2 tbsp (30 mL) maple syrup.
Share