Chicken on Warm Lentils with Baby Spinach & Bacon
Holiday 2012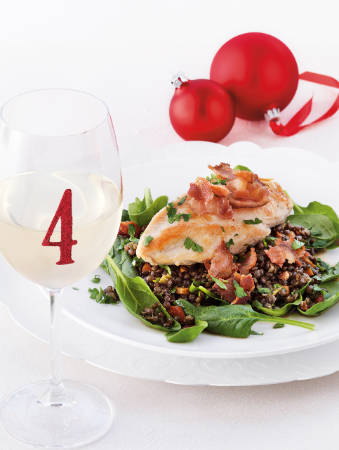 Chicken on Warm Lentils with Baby Spinach & Bacon
Holiday 2012
BY: Marilyn Bentz-Crowley
This hearty meal is especially warming on a wintery night. Just add a loaf of whole grain bread to complete the meal. If vegetarians or vegans are present, use vegetable broth and remove their portion before deglazing liquid is stirred into the lentils; garnish theirs with a handful of toasted pecans.
1½ cups (375 mL) lentils such as Le Puy, brown or green
1 tbsp (15 mL) olive oil
1 large leek, split, washed and thinly sliced
1 large carrot, diced
1 large stalk celery, diced
1 sweet red pepper, seeded and diced
2 large garlic cloves, minced
2½ to 3 cups (625 to 750 mL) chicken broth, divided
1 large sprig fresh thyme, or ½ tsp (2 mL) dried
1 bay leaf
¼ cup (60 mL) finely chopped fresh parsley
Finely grated zest of ½ lemon
6 thickly sliced bacon rashers
6 skinless boneless chicken breasts or 12 skinless, boneless thighs, or mixture of both
6 cups (1.5 L) lightly packed baby spinach or arugula or mixture of both
1 Inspect lentils for any inclusions such as small rocks or seeds; rinse in a sieve under cold running water. Set aside.

2 Heat oil in a large saucepan over medium heat until hot. Add leek, carrot, celery, red pepper and garlic; cook 5 minutes, uncovered and stirring often.

3 Then add drained lentils, 2½ cups (625 mL) broth, thyme and bay leaf. Bring to a boil, reduce heat to simmer. Stir, cover and simmer 30 minutes. Continue cooking 15 minutes, uncovered if there is still a lot of liquid, or until lentils are tender but not mushy. Cooking times vary depending on type and age of lentils. Then stir in parsley and lemon zest; keep warm while cooking chicken. (If making ahead, cool, cover and refrigerate lentils for up to a day. Reheat until hot.)

4 When lentils are almost done, cook bacon in a large frying pan over medium-low to medium heat for 10 to 15 minutes or until golden and crisp. Remove to a paper towel to drain. Leave about 1 tbsp (15 mL) of grease in pan, discarding remainder.

5 Meanwhile, lightly pound chicken breasts (thighs do not need this) to flatten slightly. When bacon comes out of pan, adjust heat to medium. Add chicken, skin-side/smooth-side down. Sauté 7 to 8 minutes per side or until golden and cooked through; remove from pan. Deglaze pan with remaining ½ cup (125 mL) broth; stir into lentils.

6 Line warmed plates with spinach; top with some of the lentil mixture. Place chicken on lentils; crumble bacon overtop. Garnish with additional chopped parsley.
Share