Cauliflower Soup with Spiced Pear Chips
Holiday 2009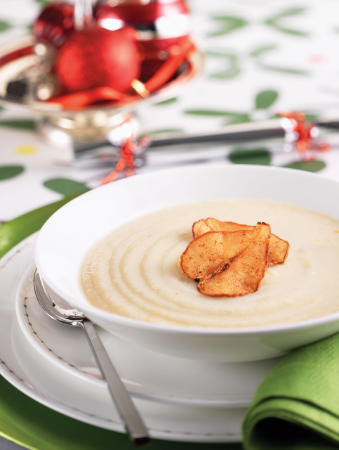 Cauliflower Soup with Spiced Pear Chips
Holiday 2009
BY: Jennifer MacKenzie
Dressed up with a touch of orange and snappy, spiced pear crisps, cauliflower becomes fit for company in this easy soup. Make it a day or two ahead of time and you only need to reheat and finish it with a fresh burst of orange just before serving. The pear crisps can be made days ahead of time and stored in a cookie tin but you might need to hide them so they don't disappear before it'stime to serve the soup.
Soup
2 tbsp (25 mL) butter or vegetable oil
1 onion, chopped
3 cloves garlic, chopped
1 bay leaf
Salt and freshly ground pepper
1 all-purpose potato, peeled and diced
4 cups (1 L) vegetable or chicken stock (approx.)
2 cups (500 mL) water
7 cups (1.75 L) chopped cauliflower (approx. 1 head)
½ tsp (2 mL) grated orange zest
1 tbsp (15 mL) freshly squeezed orange juice

Spiced Pear Crisps
1 firm ripe Bartlett or Bosc pear
½ tsp (2 mL) sweet paprika
⅛ tsp (0.5 mL) cinnamon
Salt and freshly ground pepper to taste
1. For soup, melt butter over medium heat in a large pot. Add onion and sauté for about 5 minutes until softened but not browned. Add garlic, bay leaf, ½ tsp (2 mL) salt and ¼ tsp (1 mL) pepper and sauté for 1 minute or until garlic is softened and fragrant.

2 Add potato, stock and water; bring to a boil, scraping up bits stuck to pot. Stir in cauliflower. Reduce heat to medium-low, cover and boil gently for about 15 minutes or until cauliflower and potatoes are soft. Remove from heat.

3. Discard bay leaf. Using an immersion blender in pot or, transferring soup in batches to an upright blender, purée soup until very smooth. Soup can be cooled, covered and refrigerated for up to 2 days.

4. For spiced pear crisps, preheat oven to 275°F (140° C).

5. Line a large baking sheet with parchment paper. Cut pear lengthwise into paper-thin slices. Combine paprika, cinnamon, salt and pepper to taste. Lightly sprinkle over both sides of pears slices. Place on baking sheet in a single layer. Place another sheet of parchment paper on top and set another baking sheet on top of paper to keep pears flat.

6. Bake for 45 minutes or until pears are very soft and starting to dry around the edges. Remove top baking sheet and carefully peel off top piece of parchment. Bake for 15 to 30 minutes longer, checking often, until pears are dry and firm. They will crisp more upon cooling. Carefully peel pears from parchment while still warm and place on a wire rack to cool completely

7. To serve, return soup to pot if necessary and reheat over medium heat until steaming, stirring often. Stir in orange zest and juice and season with salt and pepper to taste. Ladle into warmed bowls and float a pear crisp on top of each. Serve extra pear crisps on the side.
Share