Brazilian Chicken
Early Summer 2011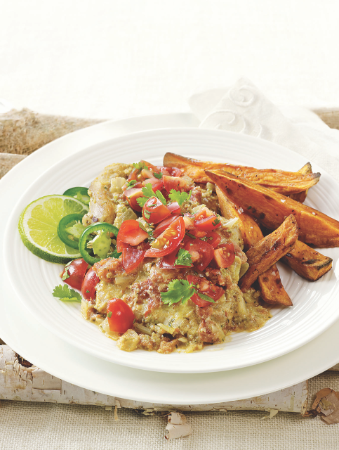 Brazilian Chicken
Early Summer 2011
BY: Lucy Waverman
This recipe features spicy chicken with the warmth of Brazil in it. Brazilian food has many outside influences, including Japanese and Portuguese, because of immigration from these countries. The spice in this dish is jalapeño, which gives a milder heat than other chilies. Serve with roasted sweet potatoes.
SAUCE
¼ cup (50 mL) Brazil nuts
1 tbsp (15 mL) chopped garlic
2 tbsp (25 mL) chopped ginger
3 tbsp (45 mL) chopped seeded jalapeño pepper
2 tbsp (25 mL) lime juice
¼ cup (50 mL) packed cilantro sprigs with stalks
2 tbsp (25 mL) vegetable oil
¼ cup (50 mL) water 
CHICKEN
3 tbsp (45 mL) olive oil
2 lbs (1 kg) boneless skinless chicken thighs cut into 2-inch (5-cm) pieces
Salt and freshly ground pepper
1 cup (250 mL) onions, chopped
1 cup (250 mL) canned tomatoes, drained and crushed
1 cup (250 mL) coconut milk
1 cup (250 mL) chicken stock 
SALSA 1 cup (250 mL) chopped cherry tomatoes ¼ cup (50 mL) chopped coriander 1 tbsp (15 mL) lime juice
1. Combine Brazil nuts, garlic, ginger, jalapeño, lime juice, cilantro, vegetable oil and water in food processor. Process until puréed. Set aside.

2. Heat olive oil in a skillet over medium high heat, season chicken with salt and pepper and, working in batches, sauté chicken thighs until golden brown, about 3 to 4 minutes. Remove and set aside.

3. Add onions and sauté for about 2 minutes or until softened. Add tomatoes, coconut milk, stock and reserved purée and bring to a boil. Simmer 15 minutes or until sauce is thickened. Return chicken and any juices and simmer for 10 to 15 minutes or until chicken is cooked through.

4. Combine cherry tomatoes, coriander and lime juice and season with salt to taste. Spoon over portions of chicken.
Share